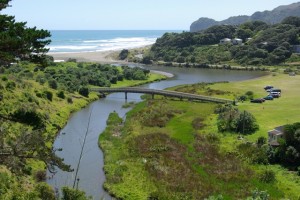 The Auckland Council Local Parks Department and Waitakere Ranges Local Board have set up a programme of riparian edge planting around Piha Domain. This will help stop stream bank erosion and also improve water quality and amenity. There was once an extensive wetland around the Domain and indeed some areas of the Domain are reclaimed from former wetland, particularly the north-west area of the lagoon. The plantings are to take place in May and June are supported by the Tennis Club, Bowling Club and Campground.
Further plantings upstream are possible subject to engineering works being completed by the art gallery (unknown when a consent will be issued and consultation finished). Various groups have been invited to take part, and all members of the community are also invited.
There are 4 planting dates for planting around Piha Domain stream edge and saline wetland off Seaview Road (by the little bridge at entrance to the Domain). The plantings are to be of species that are already found in and around the domain and each planting will be comprised of around 500 plants each, maybe a little more depending on each location.  It is hoped around 20 to 25 volunteers in total help out (from various groups and the locals in general). Each planting will kick off at 10am and finish at 1pm (including a BBQ lunch at the bowling Club). Spades, gloves and plants will be supplied.
Saturday 16th May – saline wetland near bridge into lagoon area.
Saturday 30th May – saline wetland near bridge into lagoon area.
Saturday13th June  – Stream edge planting around campground.
Saturday 27th June – Stream edge planting around campground.