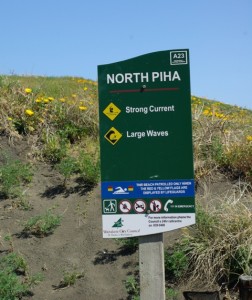 Even before you get you feet on the beach, there are signs to watch out for. All along the beachfront in the carparks, there are signs like this.
These aquatic signs were developed by the local community, including the surf clubs, the R&R, the local council and the Auckland Regional Council, and Piha Coastcare. It had been discovered that there were literally 100s of signs at Piha and this was an attempt to rationalise the signs using internationally recognised symbols.
So make sure you check these out before you go into the beach. These tell you the things to look out to make sure you have a good – and safe – day.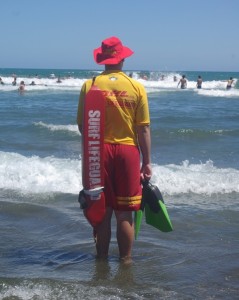 Lifeguards wear distinctive red and yellow uniforms. They usually carry a rescue tube to aid flotation when pulling someone into the beach.
These days lifeguards, like this one at Piha, spend a lot of time standing in the water doing preventive work, that is, encouraging people to swim within the flags. They are the right people to ask for advice about where to swim, whether it is safe to go fishing, and to report emergencies. They are highly trained to deal with a whole range of situations.
The internationally recognised distress signal if you get into trouble, is to raise one arm straight in the air. If you are being pulled out, it is best to try and swim out the side of the rip than fight against it. Calm patches of water on the beach are the most dangerous as it usually means a rip which can pull you out to sea.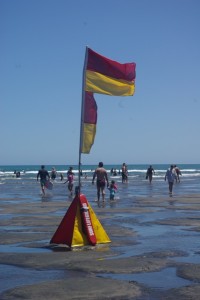 These days flags on the beach look like this one and mark out where it is safe to swim. Patrols run from Labour Day Weekend in October till Easter and are usually from 9 am to 6 pm. If there is no patrol on, be very cautious about swimming if you don't know the beach. There will probably be no-one there to pull you out if you get into the trouble.
Patrolled beaches use internationally recognised signs to tell people where it is safe to swim and where it isn't. Here are some of the signs used on Piha and North Piha beaches.

Red and yellow flags shows patrolled areas – ie swim between the flags –
and the red flag is for no swimming.