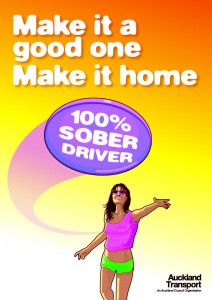 Volleyball, live music, silent disco and frisbee are just some of the planned entertainment at Piha in Auckland Transport's new sensible alcohol campaign. 
The Make it a good one, Make it home message,  targeting young people aged 15  to 25 years, is an interactive campaign that includes a series of fun events at some of Auckland's popular beaches including Piha on 7 January 2012. 
Auckland Transport Community Transport Manager Matthew Rednall says: The interactive fun nature of the campaign and beach environment helps the message reach young people and makes it a more positive experience for them. 
To get to Auckland's coastal beaches often involve long driving distances, open road speed limits and winding roads.  Put this together with drinking in the sun and a car full of mates, driving home afterwards is not a good mix.  
It will remind them too that there are liquor bans in places at beaches and the Police will be out and about. 
The campaign builds on our successful winter initiative when more than 100 sport clubs across Auckland signed up using the same key message, says Mr Rednall.  
Supporting the campaign is the Police, spokesperson Road Policing Manager Inspector Heather Wells says: I would encourage young people to enjoy themselves this summer however they should remember the new law that says zero alcohol for drivers under 20 years. 
There has been a marked improvement on the numbers of young people drinking and driving.  It shows young people are listening and abiding by the new law and I congratulate them on that, says Ms Wells. 
The campaign was launched earlier this month starting with billboards and some of Auckland Transport's fleet cars have been branded with the Make it a good one, Make it home message. The campaign runs to the end of February 2012. 
Youth drink-driving is one of the largest causes of death and injuries in New Zealand roads. Each year, young drivers cause nearly half of all alcohol-related road crashes.
For media inquiries please call:
Mark Hannan, Auckland Transport
021 572 891 mark.hannan@aucklandtransport.govt.nz