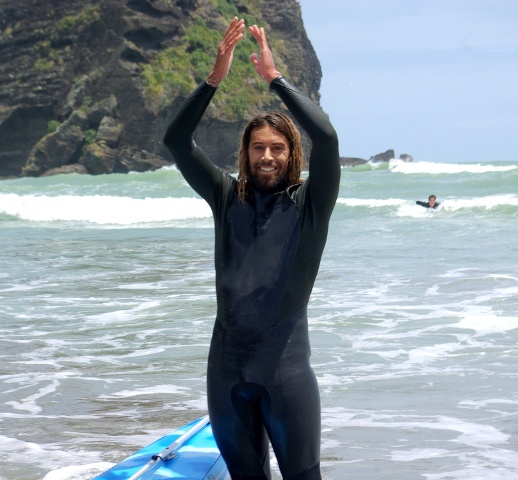 Dave Rastovich was welcomed onto Piha beach today (1 December) by Peter Turei after his epic 350 km paddle from Cape Taranaki to Piha to protest seabed mining on the West Coast. Arriving about 1.30 pm, Rastovich's final leg was from Whatipu to Piha. Crossing the Manukau Harbour the day before, Rastovich had been joined by a pod of endangered Maui's Dolphins, as if to wish him well in his mission to protect the marine environment and eco-systems they need to survive.
Surfers in red tee-shirts went out to join Rasta on his final 100 metre paddle from Camel Rock. A conch shell called him in to the beach with the crowd joining Turei in a rousing chant to welcome him.
Media thronged around to catch a few words from this smiling ambassador for opposing seabed mining. Earlier he had said to media: "This coast, including Taranaki's jewels, Raglan's points, and Auckland's beaches, are Aotearoa's spiritual centre for surfers. All would be threatened if the sand flow is interrupted, and a coastline littered with flawless waves could be irretrievably altered. As well, seabed mining will undoubetdly threaten the future of the critically endangered Popoto/Maui's Dolphin. On those grounds alone it should be prohibited."
The arrival event was followed by a family event in Piha Domain and music at the Bowling Club that night.