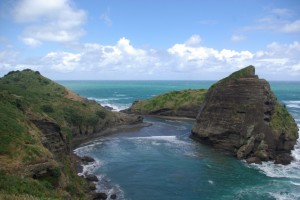 This bay is located between Taitomo Island and the mainland. Its name denotes the foam that piles up on the beach in stormy weather.
Opening onto the beach is a vent through Taitomo Island called by Pakeha "the Keyhole". A ledge created by locals leads through the tunnel to a fishing platform, not to be visited by any but the sure-footed and never in big surf. At low tide it is possible to walk in it and sometimes right through.
Geologist Bruce Hayward describes this tunnel as a "vertical dike with horizontal, columnar cooling joints …. The pounding waves have plucked out the hard, jointed andesite, creating the tidal tunnel which gives the island its name."
Opposite the keyhole is the remnants of a boat shed. This was built by Dr Colin Finlay in the 1940s. He had a boat called the Hazel Irene (named after his wife) which was hard to launch from the beach because it lacked the speed to beat the waves. He thought if he could launch it from Puaotetai Bay, he could solve this problem. However, it didn't work and he abandoned the little shed which has gradually been beaten away by the waves.
There are other remnants of failed human attempts to get around the surf at Piha. In the 1870s attempts were made to fell the kauri forest in the valley. Logs were tethered in the relative shelter of Puaotetai Bay with a view to them being towed out to sea and thence Onehunga. The surf broke these up and the insurer for the boat said such an enterprise would not be insured by them, so it was abandoned. The big ring bolts in the cliffs for the log raft can still be found on each side of the bay.
On the landward side can also be found a large semi circular shallow cave called the Green Rock, because a stream tumbling down the cliff creates a distinctive green algae.
As children the precarious ledge that took us past the Green Rock was a source of fear but at high tide it was the only way to The Gap, so we risked it. Our parents never seemed to worry about where we were going and in retrospect seemed unconcerned at these risks.