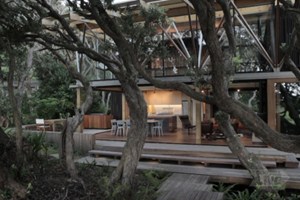 Every year the Home magazine goes on the hunt for New Zealand's best architecturally designed houses.
This year the judges noted that the tougher economic times are forcing architects to become more creative.
They assessed the entries not for their bling, but for their clever design, and came up with five finalists:
In Wellington a warm wooden family home designed by Alistair Luke for a client who is also a friend.
In Tauranga a modern Warren and Mahoney home designed for a large blended family
On the Coromandel Peninsula a two storied moveable bach that folds open and shut
And also at the Coromandel, a holiday house designed and built in a collaboration between architect Dave Strachan and a group of university students
The winning house has just been announced at a gathering of architects in Auckland.
Watch the video for Kim Hurring's full report.
Read more: http://www.3news.co.nz/New-Zealands-best-home-architecture-chosen/tabid/817/articleID/248571/Default.aspx#ixzz1qUd2hkqL
See here as presented on Campbell Live
http://www.3news.co.nz/New-Zealands-best-home-architecture-chosen/tabid/367/articleID/248571/Default.aspx