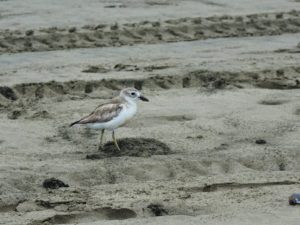 Dotterel on North Piha beach – note tyre marks, another hazard
Today (22 January) Ben Paris of Auckland Council biodiversity team was interviewed on Radio NZ about the recent attrack on a rare Northern Dotterel by a local dog. A dotterel pair as nested on the beach between the Marawhara and Wekatahi Streams for the second year and had three chicks.
http://www.radionz.co.nz/audio/player?audio_id=2018628973
 The dotterel was days away from fledging and the nest area had been roped off and there were many signs on the beach. Auckland Council Animal Management team is looking into the attack under the Dog Control Act. The dotterel was only days away from fledging. It was rescued by a member of the public and taken to the Bird Rescue centre but died. There ware only 2000 of these birds in New Zealand. Ben's message: Be a wet sand walker and keep dogs under control.