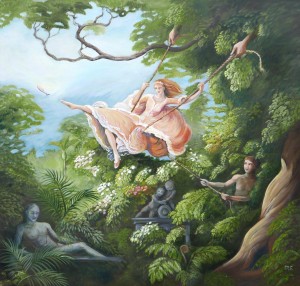 Monique Endt is a regular and much admired exhibitor at the West Coast Gallery. Her previous exhibitions have focused on West Coast landscapes, but sometimes drawing human forms from landscape features.
This summer's exhibition, SUMMER EMOTIONS, is a departure. Here the human figures are the subject matter, and the settings dreamlike. Monique explains this exhibition as
"This exhibition contains new work that is quite different to what I've done in the past. I want to tell a story using symbols of love and happiness. Objects like teapots I have used because they are part of my family history. Water is a symbol of life. Roses are a symbol of love. The girl and guy are characters in my dreams and they represent a different feeling in each work.
The girl leads you through her story visually. A long time ago my girl in a teapot began, then as time went by she appeared and disappeared. The guy is they less frequently now she is back with love."
The major work, Girl on a Swing, is based on the well-known Fragonard work, but with a kiwi twist. Nikau feature in the lush garden setting. It is beautifully executed and would provide much escape into dreamtime for a potential owner.
Monique's  exhibition runs from 14 January to 15 February. Meet the artist on Satruday 17 January 2015, from 2-5pm