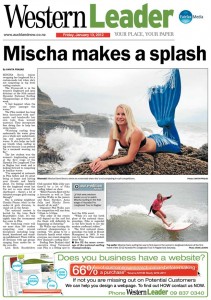 VANITA PRASAD
 Mischa Davis enjoys swapping her longboard for a custom-made tail when she's not competing in top level surfing contests.
The 23-year-old is in the women's longboard and open divisions at the 50th annual Hyundai National Surfing Championships at Piha next week.
"I feel happiest when I'm out there amongst the waves."
The Piha resident has long been fascinated with mermaids and handcrafts her own tails from wetsuit material. They incorporate free diving fins to help her swim faster.
"Watching surfing from underneath the water gives you a whole new understanding and appreciation of waves. It also helps me hold my breath when surfing in big sets because I can pretend I'm a mermaid wearing my fin."
The law student won the women's longboading event at the first stage of the Hyundai Pro Longboard Tour in Raglan last week and is looking forward to competing in familiar waves.
"I've competed at nationals in Piha before and it's great being at home and having your friends and family about. I'm feeling confident for the longboard event but I'm not so sure about the shortboard " there's a lot of talented younger girls coming through."
She is picking neighbour Claudia Fraser, who's in the under-14 girls division, to stand out in the future.
The national contest is hosted by the Lion Rock Boardriders Club. It's the eighth time the tournament has come to Piha.
The week-long event will see more than 380 surfers competing over several disciplines including longboard, kneeboard and stand-up paddleboard. There will be 25 divisions with age groups ranging from under-14s to the over-60s.
Lion Rock Boardriders Club member Mike Jolly says there'll be a lot of Piha surfing talent on show.
"Elliot Paerata-Reid will be a favourite as well as Tane and Zen Wallis in the juniors and Ryan Hawker, Anna Jolly and Mischa Davis should all do well."
Organiser Phil Wallis says the competition will run from 7.30am to 5.30pm.
"The order of the events will depend on the surf but the finals will definitely be happening on Saturday."
Mr Wallis says hosting the national championships is exciting. "It's going to be a fantastic family event where everyone can stand alongside New Zealand's surfing best."
Surfing New Zealand chief executive Greg Townsend says Piha is a fitting spot to host the 50th event.
"While it's not the birth place of the national championships, Piha is regarded as the first beach to see the modern surfboard ridden."
The first national championships was held in Mount Maunganui in 1963. It was won by former Piha resident Peter Way.
For full story and pictures here http://www.stuff.co.nz/auckland/local-news/western-leader/6251268/Mischa-makes-a-splash/