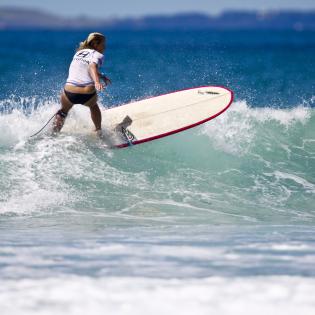 Sitka's Mischa Davis has this past weekend been crowned the overall Women's Champion at the final round of the Hyundai New Zealand Longboard Tour for 2012 at Port Waikato.
With weather conditions looking less than ideal for the entire North Island, the finals day of competition was postponed to Sunday where the sun rose warmly to show heaving surf which was going to prove pretty tricky with some big 6 foot plus sets closing out the bay. Longboarding has generally been pigeon-holed for conditions where waves are smaller and less than ideal for shortboarding but Sunday offered the perfect opportunity to bury this stereotype.
Mischa surfed her Hughes shaped board as if she was at her home break of Piha, some 50kms north and picking up the same swells. Her semi final saw her to be the only one in her heat brave enough to tackle the big waves out the back, yet after choosing the first wave of the set, having the remainder waves land directly on her head! The mermaid survived the heavy set hammering to make it through to the final, and this saw her hanging out the back again taking a wave to secure third place and generate enough points for her to take out the 2012 tour.
The 2012 tour has been a tight and exciting competition for the ladies, with the top 5 women all in contention to take out the tour coming in to the final round at Port Waikato. With Mischa kicking off with a win in Raglan, a 3rd in her beautiful home of Piha, a less than successful Sandy Bay LQS event with some tough international names surfing, and a 3rd place at Mount Maunganui she was leading the points table at the beginning of the Port Waikato round. Raglan's Alexis Poulter was hot on her heels nearing the end of the Sunday, but an unlucky semi final left the door open for Mischa to sneak through and clench the Tour title win.
From the Sitka website