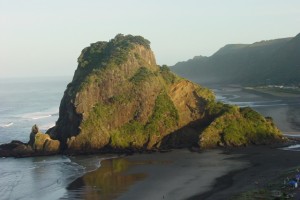 Lion Rock is Piha's most iconic landmark, its profile from all angles, known nation-wide. Lion Rock sits between Piha and North Piha beaches, offering people who climb it, spectacular views in all directions.
It is not possible to climb to the top after a rockfall made access too dangerous. At the end of the short, steep climb, there is a pou to a Te Kawerau a Maki ancestress, Ngati Tangiaro Taua, who loved this spot. There is a stone seat, so it is a good stop off place for a rest and to enjoy the views. There is interpretation on the way up about the rock and its former inhabitants.
To Te Kawerau, Lion Rock was known as Te Piha, the name now given to the beach. Te Piha referred to the patterns of waves separating and breaking on the front of the rock, as on the prow of a canoe.
The important defensive pa, Whakaari, was on Lion Rock, and middens and terrace can be found on the buttocks and right shoulder. On the very top are terraces and pits. This was the last bastion of this citadel.
Geologically, Lion Rock is the eroded neck of a volcano which erupted 16 million years ago. The orange scarp on the south-facing slope vividly shows the continual erosion. I was once contacted by a researcher who thought it was the result of quarrying!
On the southern side at the front, there is a sharp, pinncale shaped rock that was historically known as Victoria Rock as it looks like Queen Victoria in profile.
At the base of the rock there are a number of plaques. The large white marble one is a Roll of Honour to men who went from the Piha State Sawmill to WW1. There is also a small WW2 plaque and a plaque that commemorates the handing over of Lion Rock to the Auckland Centennial Memorial Park Board in the 1965. The rock was purchased from Te Kawerau in 1941 by descendants of Sir Algernon Thomas specifically to be gifted to be part of the great conservation park that Sir Algernon had sought from the 1890s. The plaque also commemorates Te Kawerau a Maki.
There have been not a few people die or seriously injure themselves  in falls from Lion Rock. In one of the most recent deaths a group of young men decided to camp on the top of Lion Rock overnight. When one went out in the dark to relive himself, he walked off the edge of the rock. In 2010, three young men set out to climb to the top in the dark. Two fell and tumbled to the bottom. The third ran for help and was lucky to find lights on at the Webber house, and Jonathon Webber, a trained paramedic, was able to go to their help. Miraculously, the two survived their injuries.