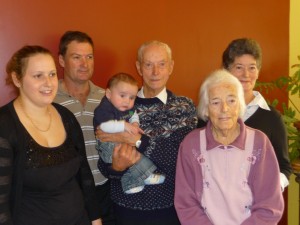 It is sad to record the death of Joan Kingston, aged 92, revered long-term resident of Piha and devoted partner of Jack.
Joan was born Heather Joan Alice Cowie on 23 October 1919 and had a childhood in Auckland, attending Newton Central School. When she left school at 13 she worked in various textile and clothing businesses where she learned skills she was to put to good use all her life.
She met Jack Kingston at the Ambassador dance hall in Auckland in 1939, where Jack was taken with the slim, vivacious yougn woman in the full length red velvet dress she had made herself. On their 65th wedding anniversary in 2005, Joan recalled that, He had a car, which was quite something for a 21-year-old in those days. She lost the heel off her shoe at the dance, so Jack offered her a ride home. That was the beginning of an over seventy-year-long love affair. Joan and Jack married in 1940. The couple had three daughters, Bonnie, Gay and Judy, and when she died, Joan was grandmother to seven, great-grand-mother to 14, and great-great grandmother to two.
For an article about Joan and Jack and over 50 years of marriage see here http://www.scoop.co.nz/stories/AK0911/S00484.htm.
Keen campers, after the war, Joan and Jack began camping at Piha at the North Piha campground, run by Les Waygood. In 1960, while walking along Marine Parade North they noticed a faded For Sale notice at the bottom of a steep driveway. Urged on by their daughter Judy, the Kingstons bought the property with the beautiful panoramic views north and south along the beachfront. To Piha folk, the property soon became known as Kingstons' corner.
Although elevated and prominent, somehow the wind skittered over the top of the bluff, leading to a microclimate which enabled Joan and Jack to develop a fantastic garden.
This was hard work as the site was infested with bracken, as well as live creatures such as pigs, possums and rabbits, that made havoc of their gardening efforts. These pests often ended up in Joan's cooking pot, and many a visitor ended up commenting on a delicious stew, unaware it was another of the resident possums.
Awards were won for the garden, both the fenced vegetable garden and the flowering garden with its walks, seats and lookouts.
The property was also a mecca for the Doll's Museum, a large area in the ground floor of their house where a stunning array of dolls and toys was collected by the Kingstons.  Many of the dolls were exquisitely dressed by Joan, in hand-made period outfits. Groups like the Country Women's Institute would come on bus trips to enjoy the dolls and the gardens and the good company of Joan and Jack, who could tell you the history of every item in their collection. Proceeds from entry fees went to the Auckland children's hospital.
Joan was an avid collector and great craftswoman and the Kingstons' stalls at Barnett Hall fairs sported a wide array of handmade gifts, all displaying Joan's talent for handwork. The finished dolls in their hand-worked finery were also exhibited at shows.
Shirley Atkinson remembers that Joan started many community ventures, epsecially for women along her end of the beach. She started an exercise class and there was the Ladies Leisure Club at Barnett Hall that held "Cushion Days' and "Easter Bonnet Days".
Joan and Jack were an inseparable team and lent their hand to every project going in the community. Jack devotedly nursed Joan when her health deteriorated and kept her at the Piha she loved as long as was possible. She died at Carnavon Hospital on 15 April 2012.
Posted 17 April 2012