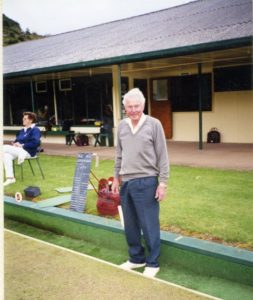 The death occurred on 11 June 2016 of Bob NcNeil and he was farewelled at the St Mary's Catholic Church in Avondale on Thursday 17 June.
Bob was a West Auckland boy through and through. Though born at Coromandel, he came to Avondale as a child and grew up there, attending St Mary's School. He and Maree married in the same church at which his funeral took place.
The couple lived first at Massey then moved back to the family home in Avondale. Before he retired in 2002, Bob worked at Vistalite West Auckland in Henderson, and Maree was overseer in the office. Bob and Maree and Maree had four children, and numerous grandchildren
Bob and Maree moved to Piha in 1990 and for well over a decade, Bob and Maree were stalwarts at the Piha Bowling Club, Bob acting in every possible role from barman to greenkeeper to president to cleaner. He was a welcoming lynchpin of the club, and a very successful bowler as well.
In 2004 Bob was awarded a national award as Greenkeeper of the Year for his efforts keeping the Piha greens in top-notch order.
.