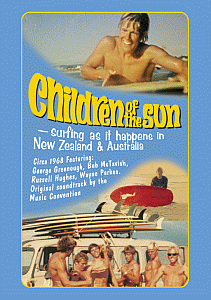 http://www.nzonscreen.com/title/children-of-the-sun-1968
New Zealand on Screen has just made available the entire Kiwi surfing cult classic Children of the Sun. Made by Andrew McAlpine and starring surfers like Wayne Parkes, the film follows a group of young surfers with long boards touring from Piha to Noosa looking for waves.
The opening shots of Piha show what waves on The Bar looked like 45 years ago, a distant memory now, and there's some on-water photography shot with an on-board camera in a homemade perspex box.
Next the surfers with some young lovelies in bikinis risk the big waves at The Gap, hanging onto kelp. And for all the world that looked like pioneering North Piha board builder Peter Way who jumped in. I recognise the Way jaw but will stand to be corrected.
And that's Piha's Carol Cranch hanging onto her bikini in the kelp.
Here's the message from Gemma Gracewood (surely the same Emma from the Wellington Ukes who played at the Barnett Hall) of NZ on Screen:
I'm the publicist for NZ On Screen – NZ's publicly funded, free, online treasure trove of Kiwi film and television history.
From time to time, we get a title up that we know a specific community will be interested in, and today it is your lucky day!
We've just added the classic NZ surf film "Children of the Sun", shot in the late 60s and featuring six-time NZ champ Wayne Parks, plus Aussie legend the late Russell Hughes, and Graham Black, Alan Burn and great surfing spots from Shipwreck Bay and Marsden Point to Makorori Point, Raglan, Waipu Cove and Whangamata. Plus bikinis, skinny-dipping and excellent rides.
We know that there are clips of this film on YouTube, but NZ On Screen offers the full-length film in legal, high quality form. Next to the video you'll see an "embed" button which means the film can be watched directly from your website if you choose to embed it.