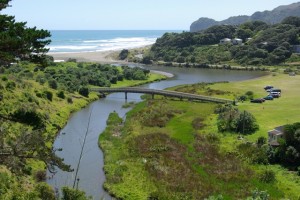 At the Piha R&R AGM, Damon Birchfield of the Ecomatters Trust outlined to the meeting a programme the trust is contracted to Auckland Council to deliver.
An experienced expert will be going house to house in Piha and Karekare discussing the performance of householder's wastewater systems and offering an assessment of the septic tank.
This is part of an Action Plan Council is rolling out to address the poor water quality on West Coast lagoons.
Problems in the Piha Lagoon go back many years with warnings against swimming issued year after year. Some years ago, the finger was pointed at the RSA and Bowling Club but these facilities have now linked to the disposal field in the Domain (Trees for Babies area). Yet the problem has persisted.
In 2013, the Environment and Sustainability Forum of the Auckland Council passed a resolution put by Cllr Sandra Coney, that the Council move beyond regularly reporting on the problem, to fixing it. The meeting agreed that it was unacceptable to continue to measure the problem, without taking steps to address it.
Further tests were carried out at key spots to identify the source of contamination. The results showed the following sources of contamination:
Bovine and human at Te Henga
Human at North Piha
Human and bird at Piha
Human and dog at Karekare.
In addition, testing at Piha at the culvert disgorging stormwater from Seaview Road, showed human faeces pollution coming into the Piha Stream which feeds the lagoon. See the report here WR2014 004 Karekare, Piha, North Piha and Te Henga lagoons what's the problem (1)
Given the source of the problem is scattered and on private land, the Council is taking an educative approach. Council cannot enter private property or test systems without landowner consent.
The Piha R&R has been advocating for action and has had several meetings with Council staff to discuss such matters as sand build up entrapping the lagoon water, and whether opening the seaward entrance would make a difference. Currently the sand is not entrapping the lagoon water but there have been readings showing pollution over the summer.
This is a problem with no quick easy answer. The Council hopes that property owners will cooperate and take advantage of the testing offered.
Council also has a three-yearly septic tank pump-out scheme, paid for by targeted rate. While an inspection is made of tanks when this is done, it is only of readily visual aspects and does not test the performance of the system. Here is a report on the septic pump-out system that was presented to the Waitakere Ranges Local Board on 28 August 2014 WTK_20140925_MIN_4648