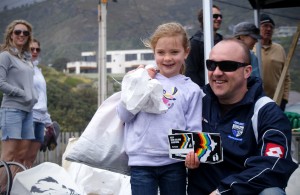 Sustainable Coatslines 17 September clean up of Piha beach resulted in 317 kgs of rubbish and 9910 items. Organisers say the turn-out was great, with some visitors coming all the way from town and avid particpation from the kids from Oratia and Lone Kauri Schools.
Among the varied items of rubbish picked up – and counted – were 26 items of clothing, over 1200 drink bottles and cans, 238 lollipop sticks and predictably 504 plastic bags. Very little fishing related gear except for rope, and yuck – 14 condoms.
When you think that this is a quiet time of the year for beach use, it shows the size of the litter problem, much of which can end up in the ocean if not cleared away.
Hopefully Sustainable Coastlines will repeat the exercise next year, it's a good way to prepare for spring, and revives an old Piha custom, once organised by Cyril Murphy.