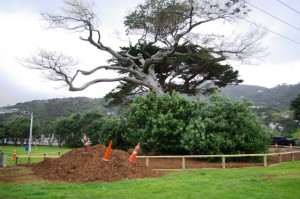 Wondered what the work is going on around the macrocarpas in the Domain ?
These two macrocarpa trees are the survivors of a group of three. They are protected in the schedules of the District Plan because of their historic importance.  One tree is in serious decline, probably as a result of compression from car movements and foot traffic over its roots. The other is healthy. The Auckland Council wants to protect the trees by keeping cars and people away from the root systems and also for public safety. It fears that if the dying tree is removed, the healthy tree will be affected by the loss of protection from wind.
These macrocarpas (cupressus macrocarpa) were planted in about 1876 by the Ness and Cowan families, the first Pakeha to settle in the Piha valley. The trees mark where they built their house. This makes the trees over 130 years old and some of the first exotic trees to be planted on the West Coast.
The Cowans and Nesses had first settled above the Kitekite Falls, which they named Glen Esk, because it reminded them of the Angus Glens in their homeland of Scotland.
An interpretive sign is to be erected by the trees to explain their significance in the history of Piha.
If you would like to know more about the history of the Piha Domain, you can read about it here.