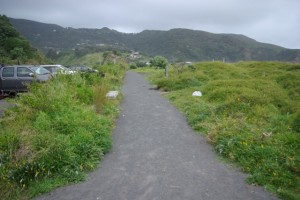 Reactions are mixed about the plethora of white concrete paths materialising around Piha – a $750,000 legacy project funded in the dying days of Waitakere City Council.
Even more contentious is the gravel path that has appeared on the beachfront, parallel to the road at Little Lion Rock corner.  There is even a dinky little wooden bridge to keep things level as if walking across the odd undulation in the dunes is beyond beachgoers.
This is the work of Auckland Transport and its genesis is mysterious. It does not appear to have had consent from Waitakere Ranges Local Board, who govern the beachfront dune reserves. It was not part of the safe walking project which explains the new footpaths.
It is certainly unclear as to what the purpose is as most people arriving at Little Lion Rock corner are going to the beach, and now people with bare feet must walk across the gravel path.
It does not in any way relate to the well-consulted 2006 Little Lion Rock Corner project, led by WCC's Renee Davies, which produced a design for that area in which gravel paths running across walkways to the beach played no part.
Sadly, it is adding to the new "hard" infrastructure that is popping up all over Piha to the detriment of its natural beauty.