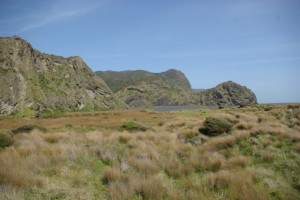 The broad black sand beach south of Karekare running down to the entrance to the Manukau Harbour is the Whatipu Scientific Reserve, a large sand accretion that has built up over the last 90 years. Maori history tells of a large flat sand island off the shore called Parore, an area of swamp, lakes and sand-dunes rich in eels, shellfish and other food resources. The sand along this coast is highly mobile and at some stage the island vanished, the sand shifting to the shore.
During the milling days, when a tramway was built along the coast close to the cliffs, the line was lashed by surf. Today the tide has retreated westwards, and the route of the old line runs through dunes, wetlands and dune lakes impounded behind vast steely grey dunes. There are many rare and endangered birds, such as dotterels, in the reserve, and large-scale pest-control programmes aim to trap feral cats and stouts that prey on these birds that often nest in the sand. Rabbits are another rampant pest in the reserve. A Scientific Reserve is created under the Reserves Act, and what can happen in the reserve is strictly limited. Scientific study and education are the principle activities that are allowed. Since 2010, the Auckland Council has managed the Reserve.
This is an area of serene and stunning beauty, with imposing cliffs looming over lakes studded with wetland plants. At the Karekare end there is the landmark Paratahi Island, only a rock really, not not far from the shore. At the Whatipu end is Cutter Rock, and in the sea at the Manukau Harbour entrance, the Ninepin Rock, loved by fishermen, some of whom have lost heir lives when caught by the incoming tide.
At the entrance to the Pararaha Gorge, there is an enormous sand-dune. Near Whatipu there are caves, one of which was used for dances during the milling days. There are two camping sites on this coast: one at Tunnel Point, where there is a tunnel cut to allow the tramway through and an old boiler abandoned when it was found it could not get through the tunnel. There is another camp site by the caves at the Whatipu end. These are small intimate camping areas with only a vault toilet.  Camping can be booked through Auckland Council.