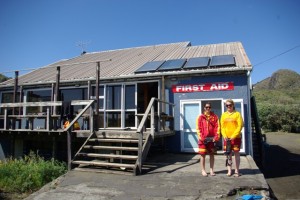 The club provides surf life saving services to the 2.4 km North Piha beach, arguably one of New Zealand's most dangerous sections of beach with many rescues carried out in the over 50 years the club has been operating.
The northern end of the beach is especially dangerous and the rocks at the far end are frequently used by fishermen. It is strongly recommended you don't swim there. Strong rips, drifts and currents are always present in this area, particularly around Monkey or Cub Rock. You are asked not to take shellfish from this area.
The clubhouse is next to Barnett Hall and Les Waygood Park and more less evolved from the North Piha Campers' Club campground. This is a private campground (an incorporated society) and is a mainstay for lifeguards patrolling the beach. The club has a distinctive Californian-style lifeguard tower which is a landmark on the beach.
North Piha is the quiet end of Piha with no shop and only public toilets – very nice ones too!
Dogs are allowed on North Piha but only on a lead and not the far northern end – Kohunui Bay – which has some special ground nesting birds such as penguins and grey-faced petrels.