31 July 2014
 Media Release from Auckland Council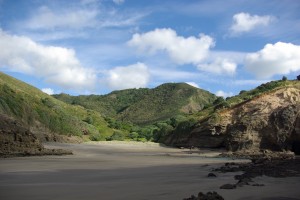 Seventy eight hectares of land on Auckland's wild west coast has been added to the Waitakere Ranges Regional Park.
Councillor Christine Fletcher, Chair of Auckland Council's Parks, Recreation and Sport Committee today announced the acquisition of the block of land off Te Ahu Ahu Road between Karekare and Piha.
This block has been on council's parkland acquisition plan since the 1970s as it links two disconnected parts of the Waitakere Ranges parkland.
The creation of the Hillary Trail in 2010 added further impetus to secure the block if it came up for sale " Hillary Trail trampers will soon be able to journey along the coast west of Piha and avoid the busy and sometimes dangerous Piha Road.
This land will now be protected in perpetuity for future generations to enjoy, she says.
Waitakere Local Board Chair Sandra Coney has supported this piece of land joining the park for some years and says the Local Board is delighted with its purchase.
"This is a vital acquisition as it at last brings into public ownership a spectacular piece of coastline which though close to Auckland, is wild and untamed.
"The drama of this coastline has been long recognised by artists such as Eric Lee Johnson and Pat Hanly, and now the public will be able to see its rugged beauty for themselves.
"This acquisition brings into public ownership a missing link in the West Coast parkland and in the Hillary Trail. It is a wild and dramatic piece of coastline which will offer visitors some spectacular views and will open up some great new walks which are bound to become favourites of the people of Auckland, says Ms Coney.
Mercer Bay Loop Walk (south of this block) can now be connected to the Tasman Lookout Track to form a safer and more diverse alternative route for the section of the Hillary Trail passing through Piha.
Other features of the property include blow holes and sea caves which are identified as some of the best examples on the west coast of Auckland and Northland.
The area also has a number of ecological classifications, recognizing the significant landforms, vegetation and wildlife values. It has the remnants of two historic baches, a headland pa, midden and terraces.
The property was purchased for $3m using council's ring-fenced park acquisition funding.
http://www.nzherald.co.nz/nz/news/article.cfm?c_id=1&objectid=11302808