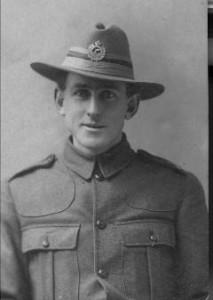 Ted and Stella Browne were the second proprietors of the Piha Boarding House.
Edward "Ted" Christmas Browne was born to Simon and Gertrude Browne on 25 December 1888 at Port Albert. The family was part of the Albertland settlement and Ted attended Port Albert Public School.
Ted was a grocer in Okaha, Dargaville when he enlisted for WW1 in 1914. He was at the Battle of the Landing at Gallipoli and was wounded at Gallipoli and later in France. He was invalided home in January 1917.
Ted was the sole surviving son of his family, his four brothers all having been killed during WW1. The boys are all commemorated on a splendid memorial in the military cemetery at Waikumete cemetery. There was one sister, Eva.
http://www.nzherald.co.nz/nz/news/article.cfm?c_id=1&objectid=11305614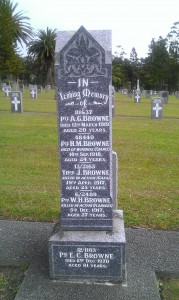 In 1920 Ted married his third cousin Stella Jackson with whom he had been corresponding while serving overseas. Ted became a postman, and the couple lived in Dominion Road. Because of ill health, in 1923, the Brownes moved to Karekare. They bought a piece of land (originally owned by John Shaw) from Maria Farley of Winchelsea House.
Ted and Stella set up a casual boarding establishment for trampers and cyclists, especially members of the Manukau Amateur Cycling Club. The location was near the Karekare waterfall – the cookhouse was an old Karekau mill building and accommodation was in tents and lean-to's.
Ted also kept bees and made honey, describing himself as an apiarist.
The Brownes main customers, the cyclists, braved the Piha Road and the steep hill down The Cutting. The cyclists' women friends walked along the beach from the wharf at Whatipu. These cyclists formed the Karekare Surf Life Saving Club in 1935, so the Brownes had regular clientele.
In 1936 when the Le Grices put their boarding house at Piha up for sale, the Brownes moved over the hill. Son Bill ran a little post office from the boarding house and a store for daytrippers at the bottom of the boarding house driveway. Bill also found Maori artefacts in caves and rock shelters, some of which are today in the Auckland Museum.
The Brownes left Piha in the 1940s, when the Poples took over the Boarding House. They lived firstly at Remuera, and then at Howick, where Ted Browne died in 1970.