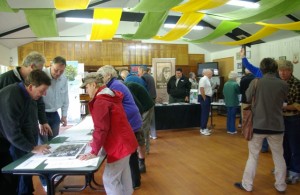 Not too many people filled out forms to comment on information at the parks' open day, maybe people were content to be informed. But parks has now said it will do the following:
Relocation the water tanks in Piha Domain – undertake a feasability study
Domain driveway by lagoon – narrow down options and consult stakeholders
Upgrade of Domain toilets – respondents favoured a total upgrade so Parks will look for extra funding
Dune Management – only one response – in favour
Rabbit pest control – update stakeholders on work and timing
Wekatahi and Marawhara – No immediate work – keep a watching brief
Piha Strand dune fencing – inform directly affected residents and stakeholders of pending works and timing
Les Waygood Weed Control – Produce weed management plan then inform stakeholders
Parks is employing dune expert Jim Dahn to review the work done on the dunes with a view to advising if any further work is needed, and also to advise on ongoing management. Jim spoke at the Dune Workshop held by Waitakere City in 2009 and is recognised as the authority of dunes.
With regard to the Marawhara/Wekatahi Streams, Parks has established a detailed beach monitoring programme to assist it to monitor the movements of the streams and amount of erosion/accretion. "Trigger points" have been established to help Parks determine when remedial action might be needed. Auckland Council's Land and Coastal Processes Management Team is assisting Parks with this.