Piha Rescue season premiere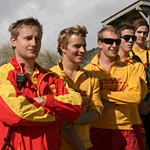 The next season of "Piha Rescue"  will go to air on Monday Jan 17th.
To mark the occasion,the Piha SLSC will be showing the season premiere on the big screen at the Piha Surf Club Bar.
 Not to be missed –  the bar staff will be running a 'Special' on the new soon to be famous "Piha Rescue" cocktail,
 Rumour has it – that you might get an insight into why the famous 'C' patrol is so famous!  
PIHA RESCUE  
MONDAY 17 JANUARY 8.00PM
Situated on Auckland's picturesque west coast, Piha continues to be one of New Zealand's most popular beaches, with its combination of black sand, great surf and glorious scenery, locals and tourists alike arrive in droves, escaping the heat of the city to relax and unwind at the water's edge. But the west coast beaches of New Zealand are unpredictable and potentially deadly if not treated with caution and respect and Piha is no exception.
In episode one massive surf and unpredictable rips create havoc for the lifeguards; a young girl gets caught in jellyfish; and two women go under in front of the Pakiti rocks.
This season also features a visit from the lifeguards of Huntington Beach in the USA; the annual Piha Big Wave Classic sees the biggest surf anyone can remember; the fast and furious Super-Cat races; and the Piha lifesavers take a trip to Raglan to help out.