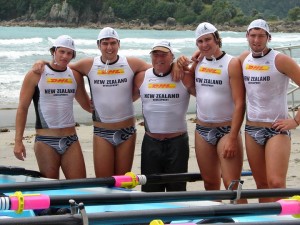 Whilst the Piha Pirates were pleased with their achievement of being selected as the NZ U23 Development team surfboat crew they also knew they had a responsibility to their club and country to deliver a high performance in the international series.
The Piha Pirates gained insight and inspiration from All Black great Grant Fox at a private dinner on the eve of going into the NZ camp. Foxy spoke of the need for individuals to assist each other to collectively rise to the occasion both in the competition arena and out.
On the eve of the 1st Test the Piha Pirates spent time with Piha clubbie and Orewa Boat sweep Mark McCarthny who was part of the only ever other Piha Boat crew to represent NZ, and won their one and only race to beat the Australians in 1985.  Mark (Macca) spoke of the pride in representing his club and country and the support across the country  surf-lifesaving clubs had for the Piha Pirates.
The Pirates were truely inspired by both men and were under no doubt as to the huge challenge they had in front of them.  The resolve was simply to Win the Test series.
Below is Bugsy's diary accounts as recorded at the end of each test day.
 Test One:  Very close racing saw us end the day 1-2 to Aussie U23s.  Pirates won first race by the thickness of their razor sharp swords.  2nd race Aussie official ruled Aust U23 beat the Pirates, a subsequent review of officials video showed Pirates beat Aus U23s, but no change to official placings.  We took pride in the fact we beat Aussie Open surfboat crew in this race, but were gutted our result was swindled away from us.  Third race we got gassed and finished fifth behind all including England, who we beat in both previous races.  We went to bed licking our wounds but identified some areas we could attack the Aussie U23s come Test 2.  The race plan was tweaked but we knew it was going to take a huge performance to pull it back.
Test Two:   Went into the day 1-2 down in the series but knowing it should have been 2-1 to us.  First race Aussie Chief judge cocked up and failed to tell Bugsy he had decided to change Pirates can from 5 to 4. Pirates held their line to Can 5 and clashed with Aus U23s who were also racing to Can 5.  Pirates changed course only after physically hitting Aus U23s and finished race a boat length behind Aus 23s after changing course and turning on Can 4.  Bugsy formally protested and after a verbal scrap on the land the race results of U23s was ruled void.  Decision was two races to complete the day, if split decision (one win each) there would be a row off.  Pirates nailed 2nd race, big courageous row to fight back off the back foot.  During this race huge dust up between Aust Open Men's and England Open men's at the start of the race which saw Oz ram Eng. The Poms, and good on them, were hitting Oz rowers with their oars (pushing their blades into them).  Third race Pirates needed to take Aus U23s to avoid a row off.  This showed the stuff Pirates are made of. They beat them, very very close, but got them. So now 3-2 up in the series, pity we got robbed in the 2nd race of Test One, we could have been 4-1 up.  Huge war looming for Friday.
 Test Three:  The Pirates had plenty of nerves going into this day of racing.  Never have I seen them so tense and mentally focussed on attempting to put the Aussies away.  Race One was the critical focus;   An epic row and battle which had nothing between 1st and 4th saw NZ open men finish first, Pirates 2nd, Aussie open men 3rd and Aus U23s 4th, England Open men 5th. Huge win for the Pirates beating the best Aussie Open men crew again but more importantly putting the U23 series count to 4-2 and only needing one win out of two races to win the Trans Tasman U23 test series. 
 Again the 2nd race was fought all the way to the line with NZ Open finishing 1st, Pirates finishing 2nd, Aust U23 3rd and Aust Open men 4th, England Open men 5th.  With huge relief the Pirates had achieved the goal they had set themselves going into the international series.  The NZ Piha Pirates U23 crew are the Trans Tasman U23 champions.  A big effort to lift and win the third race of the day was needed and whilst the Pirates gave everything, we managed a fourth behind NZ Open Men's 1st, Aust U23 2nd and England open men 3rd, with Aust Open men disqualified for missing their can.
So the series was wrapped up with NZ Open men winning the Open men division and The NZ Piha Pirates winning the U23 division 5 " 3.   A quick tally up also showed The Pirates beat the Aust open Men's crew 5 " 4 in the 9 race series also.  A huge achievement.
 Our Thanks and Appreciation
During the course of the week there were a lot of nerves, tension and emotion which is a challenge for all competitors to deal with at this international level.  The amount of support we received via txt, email, Face book, and phone calls from Piha clubbies, sponsors and friends (and to be fair, boaties from all clubs across NZ) were truly overwhelming.  In fact the amount of support for this crew became inspirational.  The Piha Pirates thank each and every one of you for that support; we know in our hearts we could not have achieved this success without it.  Please be very proud and share this success with us.
Bugsy, Jed Wright, Logan ˜the Rock' Flutey, Adam Foster, Nick McKenzie, Shamus O'Halloran