The Piha Senior A crew has just achieved a historic double – the Piha crew was 1st in the Autex Australian Surf Rowers League Open Men's Champs and then won the Battle of the Ditch in an NZ Piha A vs Australia test.
Our Piha Senior Surf Boat crew was selected  to represent New Zealand in a test surf boat series in Aussie last week.  The  setting was the world's biggest dedicated surf boat event held at Newcastle's Stockton beach. All of Australia's best crews were on hand chasing the Australian State titles. The best performing crew in Australia was representing Australia against our own Piha Crew. Piha not only went on to win the test but also on the following days got through all the heats, semi finals and into the final. After a close race against the 5 top crews in Aussie, the mighty Piha Crew won this also. Piha took the double.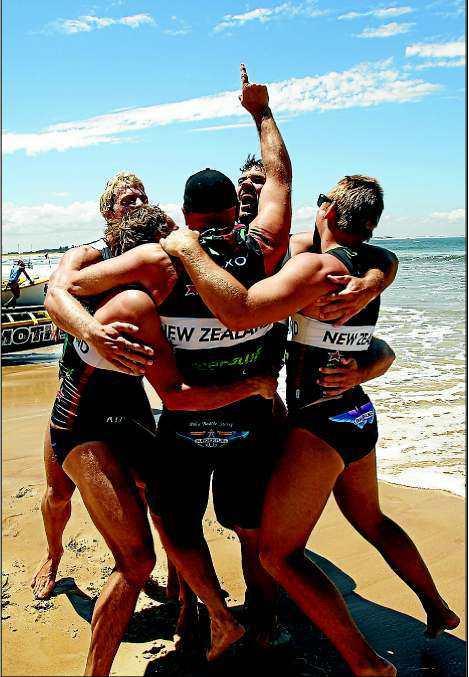 In the test, after the formalities of the country national anthems, Piha blasted off at the gun to hold a good lead of a boat length into the buoy turn with Lorne chasing hard, Piha hit the afterburners coming home to pull another length on Lorne in the smallish surf heading home, but a small runner came along and  Lorne saw their diminishing chance change and they chased the runner like the top Australian crew they are. But the Piha guys keep their heads as they saw their two boat lead disappear after all their hard work and charge at the line as hard as they could to try and fend off the approaching Aussies. The race finish saw both crews wondering who had gotten the nod ! A few minutes passed before the silence was broken by the announcement that the NZ Piha A Crew had claimed the spoils of the day.  Piha Australian champions.  
 Next, our NZ Piha crew had to refocus themselves on the ASRL Open Men's title challenge,  there were about 400 crews racing to be the top crew in Australia. Piha made the top 16 crews which already was a feat to achieve . They were in elite company, the crews were all battle hardened and  fast !  In the semi final Piha was winning but a wave behind brought all the crews into contention. But Piha hung on to make the final. Our Piha crew was against the top other 5 crews in Australia. The final lived up to expectations with all six crews heading for the line together. But right at the end the Piha crew put on the power to get ahead and win by a small margin. Piha took the double. This has never been done before. Piha thanks Bill and David  for their support and sponsorship" from Autex Greenstuff   Piha did all this with a borrowed boat ( thanks Scotty from Jan Juc and Westpac )  and borrowed oars .Not a bad effort.
Hard to repeat a weekend like this.
Piha Surf Boat Crew beat the best in Australia. They are the Australasian  Champions