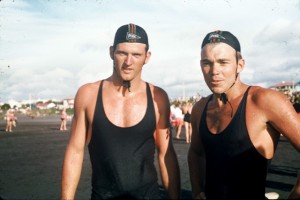 Two US lifeguards are credited with the birth of the modern surfing movement in New Zealand and there is a strong Piha connection. When Rick Stoner and Bing Copeland turned up at Piha in 1958 they created a sensation. The local girls were wowed by the Yankee accents and blond good looks while Piha Surf Club members were bowled over by the possibilities of malibu board riding. Club members remember watching the two take their boards out for the first time. Without a paddle, clubbies watched waiting for a disaster. Bing and Rick recall that the club sent out a couple of members of surf skis to keep an eye on them. Scepticism turned to excitement as they watched the two Yanks ride across the face of waves on their feet. Club members clamoured to have a go at the boards.
Rick and Bing made themselves at home at the Piha Surf Club and all summer club members practised with the boards. Rick and Bing started making boards for club members and built two for the 1959 national surf life saving championships which were held in New Plymouth. Neither had made boards before, but they had visited board factories in the States. Piha club member Peter Byers helped the two, driving them all over Auckland to find the right ingredients to build the boards.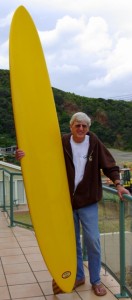 The boards created a sensation at New Plymouth. Built with shaped insulated polystyrene covered with resin and chopped strand fibreglass, they were far lighter than the few earlier paddleboards being used in New Zealand.
The early growth of surfing through the surf life saving movement is different from other countries which surfing spread as a kind of drop-out counter-culture. As boards got lighter, and more young people had cars, board riding was taken up by non-clubbies and a certain amount of acrimony developed between the two with their differing cultures.
At Piha, Peter Byers continued to make boards after Rick and Bing went home, setting up a small surf-board factory in Beach Valley Road and he also supplied blanks to other would-be board builders. Byers is credited with the initiation of the board-building industry in New Zealand.
Piha spawned another surfing legend. Peter Way is the son of Barbara and Hadyn Way. Hadyn was a huge man, a former wrestler and a legend at the Piha Surf Club for his tough-man ways. Peter was just as tall but lanky, and the epitome of the wild-man surfer. Peter was a member of the North Piha Surf Club and a successful competitor at body-shooting and surf skis. His prowess and confidence at riding big surf on boards is legendary. He won the senior men's section in the inaugural national surfing champs in 1963. He represented New Zealand at the world champs in Puerto Rico in 1968.
Way also took up board building, first in his parents' backyard at Sandringham, using blanks supplied by Peter Byers. In 1967 he took over a surf shop at Albany, then the North Shore, and later New Plymouth.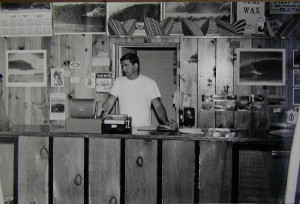 Back in California Bing back a legend for his surfing and for his Bing's Boards custom board building business. Rick sadly died quite young. Bing and Rick's Velzy boards that they bought to NZ in 1958 have been restored and hang in the Piha Surf Club. Bing holds his board in the photo above taken when he revisited Piha in 2008.