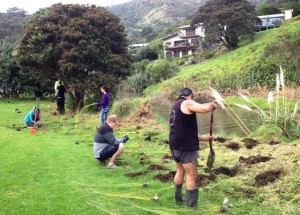 Well done to the team that gathered on the bank of Piha Stream behind the Bowling Club to plant up streamside.
The group of 25 who responded to the call to start the restoration of the Piha Stream put in 1100 plants in an hour. Planters came from the Bowling Club, Tennis Club, Protect Piha Heritage, Piha Camping Ground, the Piha community and Luke from "up North", who stopped in on his way to a protest about deep sea oil drilling on the beach.
Also in attendance were Pam and Gabriella from Ecomatters Trust which is about to start a project to work with private land owners on control of climbing asparagus, deemed to be the biggest threat to our native forest on the West Coast.
Today's planting project is the first of four plantings organised by parks for the Waitakere Ranges Local Board, part of the effort to improve the health of Piha Stream and the lagoon.
Plants were oioi, coprosma and other plants that would naturally be found in this location.
The next planting is 10 am Saturday 30 May.