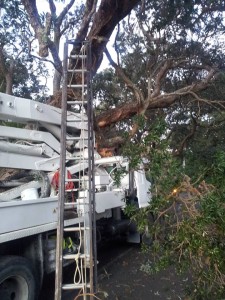 One of Piha's most prominent pohutukawa lost a limb on the morning of Wednesday 24 June when a truck struck it with such force a limb was severed.
The Piha Volunteer Fire Brigade was called out and arborists were brought in to removed the damaged limb.
This is the third large branch that have been lost from pohutukawa in Beach Valley Road in recent years. The first branch was removed by parks because taller campervans struck it.
The Local Board stepped in to save a limb on a pohutukawa at the beach end of Beach Valley Road but the tree was so badly vandalised following this, that the limb had to be removed.
The Beach Valley Road pohutukawa are a rare remnant of coastal pohutukawa forest. The road was built through the trees in the 1930s to access the beach and residents have been built houses amongst them.