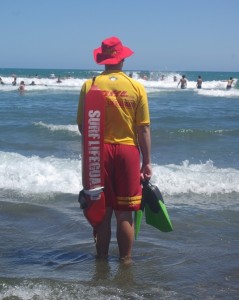 A new website from Surf Life Saving New Zealand aims to inform visitors about West Coast and other beaches: where to swim and surf, lifeguard patrols, surfing, fishing and so on. A good idea, but the information is too broad and not detailed enough to accurately inform people and in some cases can give quite the wrong impression, especially for overseas and out-of-town visitors who would be most likely to use such a site.
Piha scores only 1 star for swimming but we are told you can kayak, and fish from the beach and rocks, with insufficient information here about rock fishing safety, when surf patrols are in place, and I would challenge anyone to kayak. At North Piha there is apparently a food kiosk and also kayaking.
At Karekare you can dog walk and horse ride with no mention of the prohibited areas of the Scientific Reserve, and you can collect shellfish – no mention of  the community rahui. Wind-powered vehicles are also promoted.
Whites Beach contains very contradictory information with 2 1/2 stars for swimming, yet a message further down the page "Unpatrolled beach, Never swim or surf alone."
Both Whites and Anawhata are called family beaches despite the dangers of swimming and the steep and difficult access.
Bethells is also good for dog walks, and shellfish and "a large recreation reserve is curently under development at the rear of the beach."
The website is sponsored by State Insurance, and the part where you look for accommodation also takes you to a commercial site.
Here's the website address www.findabeach.co.nz