Starting halfway along Glen Esk Road on the left (look for the routered directional sign) is the Maungaroa Lookout Track. You cross the Piha Stream on an elevated wooden bridge (built high to avoid being swept away in this frequently flooding stream), then soon ascend steeply. This is a good cardio-benefit climb through mature bush, the land having been donated by Sir Algernon Thomas in the 1930s, one of the first gifts to get the Auckland Centennial Memorial Park off the ground.
There are a couple of slightly challenging parts of the climb where rock walls have to be clambered up, but even someone like me who is getting on in years and not very fit can cope, maybe with a hand-up.
At the top you are rewarded firstly with a grand view back over Piha, where you can sit awhile on a warm rocky shelf, then further up a brief detour to the right provides a wonderful view over the upper valley and Piha Mill Camp and surrounding forest. This is called Kitenui Knob.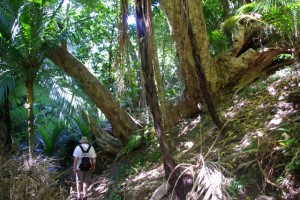 The final height reached is 210 metres and this is where kauri are to be found in their favourit habitat on a ridge.
The track continues on along a long easy ridge backing North Piha Beach with occassional wonderful views back over Piha.
It then starts to descend through groves of rengarenga and forest to the Wekatahi Creek which you cross twice before heading back towards the beach along the Nikau Grove Walk, a really easy walk through nikau forest beside a braided stream.
This comes out at the end of Garden Road and it is a pleasant walk back along Garden Road to the Piha Domain and then back up Glen Esk to your starting point. The park section of the circuit is 2.4 km. Even in winter you won't encounter many muddy spots on this track so it is a good winter walk.  The parks staff say it takes 1 hour to walk the parkland tracks, but if you stop to admire the views and catch your breath on the way up, and add the road section, it's more like 2 hours.