Mary Dobbie was one of the most well-known personalities at Piha and a leader in many community developments from the 1970s till the 1990s.
Born in 1913 in London to parents Lillian and William Smee, her family emigrated to New Zealand in 1919, settling in Opotiki where her father had a position as secretary/accountant for the Farmers Trading Company. She was schooled partly at the convent and partly at local state schools. Moving to Auckland during the Slump of the 1920s, the family's fortunes took a downturn. Lillian took her children back to England, but they returned and the family lived at Remuera and Mary attended Epsom Girls Grammar.
Mary's mother was educated and talented, and quite feminist; she also had gifts of clairvoyance which she would pass onto Mary. Mary also discovered a talent for writing which was encouraged by her family and friends, one of whom, Mrs Goudar, gave Mary her first typewriter.
Mary enrolled in a journalism course at Auckland University, where she was introduced to radical politics and became friendly with a left-wing crowd, people like Elsie Freeman (Locke), ARD Fairburn, Frank Sargeson and Iris Wilkinson (the writer Robin Hyde). It was Hyde who suggested Mary apply for a position where she worked at the New Zealand Observor. Hyde helped Mary learn the practical skills of journalism and how to develop contacts for her research. Hyde even helped her borrow stylish gowns from local shops when she was sent off reporting on the local social scene.
Through her contacts with forward thinkers, Mary became a member of the Communist Party and wrote for The People's Voice as well as other left-wing publications such as The Bulletin of the New Zealand Women's Food Value League and later the progressive, Here and Now. The association with the Food Value League prompted a life-long interest in nutrition and healthy living. Her friendship with Elsie Locke led to her being a major contributor to the feminist magazine, Woman To Day, and to a growing interest in birth control, painless childbirth and child rearing.
In 1939, Mary married Edmund George Saker, whom she had met through the printer Bob Lowry and his wife Irene, at whose home on the slopes of One Tree Hill the couple went to live early in the marriage.
During WW2, Edmund joined the air force and Mary, now pregnant, stayed at the Lowry house while he went to camp.
Mary had a love affair while her husband was at camp, which precipitated a divorce. In 1946, she married her lover, Pat Dobbie, and gave birth to her second daughter. The Dobbies went to live in the countryside in fairly straightened circumstances, and two more daughters were born. When her husband got a job as a broadcaster the family's fortunes looked up, and it was one of his interviews, with Nancy Sutherland of the Parents Centre movement, that led to Mary's consuming activism on childbirth and parent-child relationships, about which she later wrote a history, The Trouble with Women (1990). When she had a fifth daughter, she was able to have the birth she wanted, with the help of Professor Carey at National Women's Hospital, who supported natural childbirth.
When Mary's youngest child was 14, Mary was introduced by friends to Piha and she started by using a borrowed bach in Pendrell Road. When the owner decided to sell, in 1974, Mary managed to scrape together the money to buy the bach, which came with three sections, on the second of which  she built a more habitable cottage. She separated from her husband, and came to live full-time at Piha, enjoying developing the garden around her house. She grew her own vegetables and every day ate a salad made with ingredients from her own garden. With her love of community she was soon embroiled in the politics of Piha, starting the now long-running Piha Community News as a one-sheet broadsheet. She edited this until 1990 and then continued with a column. The beneficiary of the Piha News profit was Barnett Hall, which gained a new roof and other improvements from the funds.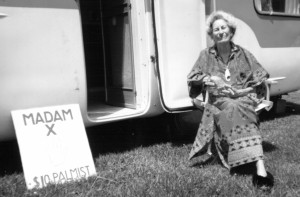 In 1990 she sold the cottage and built a larger house on the remaining section. She was always very involved in the environmental groups at Piha, and wherever there was a community get-together or fair, Mary was famously transformed into Madam X, reading palms, using the skills she had learned as a girl. She helped start the Piha Library with Glenda Northey and was a stalwart of the library, volunteering for many years. In 1997 she was awarded a QSM for her community service.
Mary was a handsome, distinctive woman with a great pile of beautiful white hair, and rosey cheeks, but with a steely intellect and being highly articulate, she was not a woman to be taken lightly.
In 2000, suffering deterioration of her eyesight and osteoporosis, she went to live in the city. At 93 Mary had a mastectomy for breast cancer, and then suffered a series of strokes. A woman of strongly held views and outspoken to the last, in her final year she was interviewed for the Listener on the right to die. She passed away on 9 June 2009 aged 95.