Friday 10 February 2012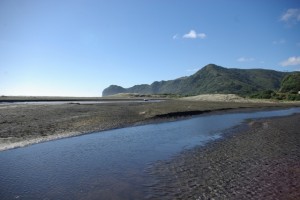 Earlier in the summer, various local groups met with Parks West and the Local Board to discuss whether any action should be taken on the joined up and meandering Marawhara and Wekatahi Streams which disgorge onto North Piha beach. Some trigger points were established for possible separation, which would involve mechanical works and shifting of sand on the beach. Below is the latest report from Tracey Hodder of Parks West with some graphs showing how the stream is shifting.
Tracey reports that Parks have met with consents and engaged a consultant to undertake a variation to the existing resource consent to allow works to be undertaken during the summer period if required.  The variation is currently being processed by Council.  A final decision is expected by the end of February.
Dune profile surveying was undertaken in January and the profiles have been overlaid with the profiles taken last year.  Please find attached the profiles as well as specialist interpretation on this data. 
At the stakeholder meeting in December it was agreed that another meeting should be held in May 2012 when more survey information was available.  However due to the recent erosion and advice from internal specialists Tracey will be arranging a meeting with stakeholders in late February to discuss the surveys, determine if trigger points can be confirmed and therefore works occur this summer.   
12-02-08 Wekatahi and Marawhara Streams – Dune Profiles