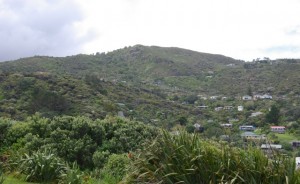 Piha is a small village with two surf beaches surrounded by the Waitakere Regional Parkland. Many properties contain significant native bush, often backing onto the forest of the parkland. All the surrounding landscape is given the status of Outstanding Natural Landscape under the Regional Policy Statement, but the built village area is not. Unfortunately, this built area is enlarging and intensifying and so the area deleted from Piha's ONL is getting larger.
Much of the bush at Piha was milled but this stopped in 1921 and there has been significant regeneration of the bush since that time. Some of the land was cleared for farming, but this was mainly retired by the 1950s. There have also been fires at regular intervals and these sometimes burned over large areas of regenerating bush.
There are about 90 sections still unbuilt on at Piha, and little prospects for further subdivision. However, there are still significant risks to the naturalness of Piha.
The risks are mainly:
Increased size and prominence of buildings
Clearance of bush
Poor forest health with invasive weeds
Intrusion of urban built elements and infrastructure such as road markings, bollards, signage, impervious surfaces, curbing and channeling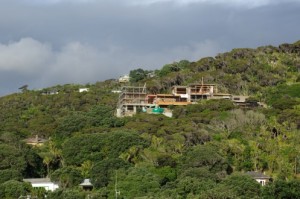 The house in this photo is an particularly poor example of a dwelling out of scale to the natural surroundings. There was consternation when this appeared, especially as Council officers had ticked it off on a non-notified basis and the site preparation required considerable excavation of rock. The zoning was Waitakere Ranges which is meant to provide more protection than the Coastal Village zoning. The Officer's argument was that as Piha was becoming urbanised, the dwelling was not out of keeping.
Many baches and houses nestle in native forest or within pohutukawa forest, and so, despite the increased nunber of dwellings, and the increased size of some of these, the natural environment is still dominant at Piha over the built environment. However, there is a trend to replace or enlarge small baches with bigger dwellings as the permanent population increases. Some particularly important "green belt" areas in Piha's backdrop have been subdivided, the houses not built yet.
As a result of representations from the Piha community and the Piha R&R, Waitakere City Council started to look at what it could do to protect the character of Piha. An early report was this one to the Planning and Regulatory Committee in 2005. Built Development in piha Report July 20051
Waitakere City commissioned a report from landscape planner Melean Absolum on Piha's landscape and this is quite salutory in describing the threats to Piha.
Have a look at the Absolum Report here in two parts. LandscapePiha05part1
After this WCC seems to have gone into reverse, and introduced Plan Change 36 which would have profound effects o the landscape of Piha. planchange36_WCC