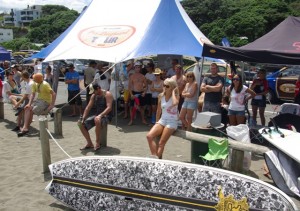 Piha's Micha Davis held the flag for Piha in winning the Women's Longboard event at the Hyundai Pro Longboard surfing event held at Piha on 8-9 January. Her 6.75 score on her last wave in the final, took her past fellow Piha-ite Anna Jolly who came in 2nd. No other Piha surfers took finals positions. Generally, Aussies dominated the results (see below).
The event was blessed with great weather and good waves on the bar. A novelty was the competition for paddle boarders who from the shore looked like long-legged birds as they skimmed over the surface of the water.
On Sunday a beach clean-up was held, organised by Sustainable Coastlines. More on that later.
Go here for a full report on the results of the event Aussies rule Hyundai Pro Longboard Tour event