The Lily Pond in Claude Abel Reserve in Garden Road is a favourite place for a picnic and to feed the ducks, now joined by pukeko. It was created in the 1940s and the area beautified by local bach owners and residents.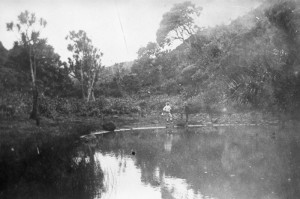 Early photos of the area, in the early 20th century, show a pool impounded behind  large backdunes. By mid-century raupo and other wetland plants had diminished the open water and that's when an energetic group of local residents decided to take action. In 1946 Frank and Fanny Barnett who lived near the pond proposed to the North Piha Ratepayers' Association (the association later amalgamated with the Piha Ratepayers' Association) that the pond be enlarged by clearing the raupo. Donning their swimsuits, and using a raft supported by empty drums, locals ventured into the pond to remove the wetland plants. These were dragged onto shore with a winch fitted to a truck.  The work was wet, dirty and smelly as the activity released trapped gasses from rotting vegetation. A series of photos in the Henderson Library documents the project.
Waterlilies in six colours were planted in the pond, and fushcias were planted in ponga posts edging it. Gold fish were introduced, and although it was originally planned to have swans, ducks made it their home.
In the early 1960s Mr Barnett purchased a section owned by Norman Winter on the northern side of the pond that was covered in rank grass, willows and macrocarpas. A major working bee cleared the land and later a mechanical dragline dredged the lake at its northern end. The mud from the lake was deposited along the shore to form a flat area which was then planted with native specimen trees. When this was written up in the AA magazine in 1961, it reported that there was a shed and boat for regular clearing of plants and a zigzag path bordered with a railing to reach a lookout point at the back of the lake, all done by local property owners. Mr Barnett gave the land to the council and it was later named Claude Abel Reserve in memory of one of the most avid supporters of this project.
The waterlilies, however, have proved to be a problem as they clogged the water and caused siltation. From time to time, the Council has had to carry out the difficult task of clearing the waterlilies and then disposing of the debris. At one stage, the Council removed the lilies and took them to the wetland at Te Henga for safekeeping before bringing them back after digging out the pond. One shudders to think what would have happened had they escaped and invaded that regionally significant wetland.
In the mid-2000s, local residents lobbied to get the lilies removed and controlled. There was some community debate about whether the area should be left to silt up and form a wetland, however, strong community consensus determined that the pond would be dug out again.