The Waitakere Ranges Local Board is proposing new dog rules for Piha. Currently Piha has very complex rules. Regional parks rules prohibit dogs south of Pakiti Rock (The Gap), north of the caves at the end of North Piha and around Lion Rock.
Dogs are prohibited on Piha beach during daylight saving and on a leash outside of daylight saving. At North Piha there is a daytime off-leash area but the rest of the beach is on-leash.
The proposed new rules prohibit dogs on Piha beach all year round, but a very large off-leash area has been created for the whole of North Piha under Local Board jurisdiction. Dogs must be put on a leash within surf patrol flags and in the evening.
The purpose of the proposed rules is to:
1. Simplify the rules so that they are easily understood
2. Protect wildlife
3. Protect the public in high-use areas
4. Keep dogs out of the lagoon
5. Provide a large exercise area for dogs and their owners
You can make a submission until 4 pm Friday 17 July. You can make a submission online at shapeauckland.co.nz.
For help ring 09 3010101.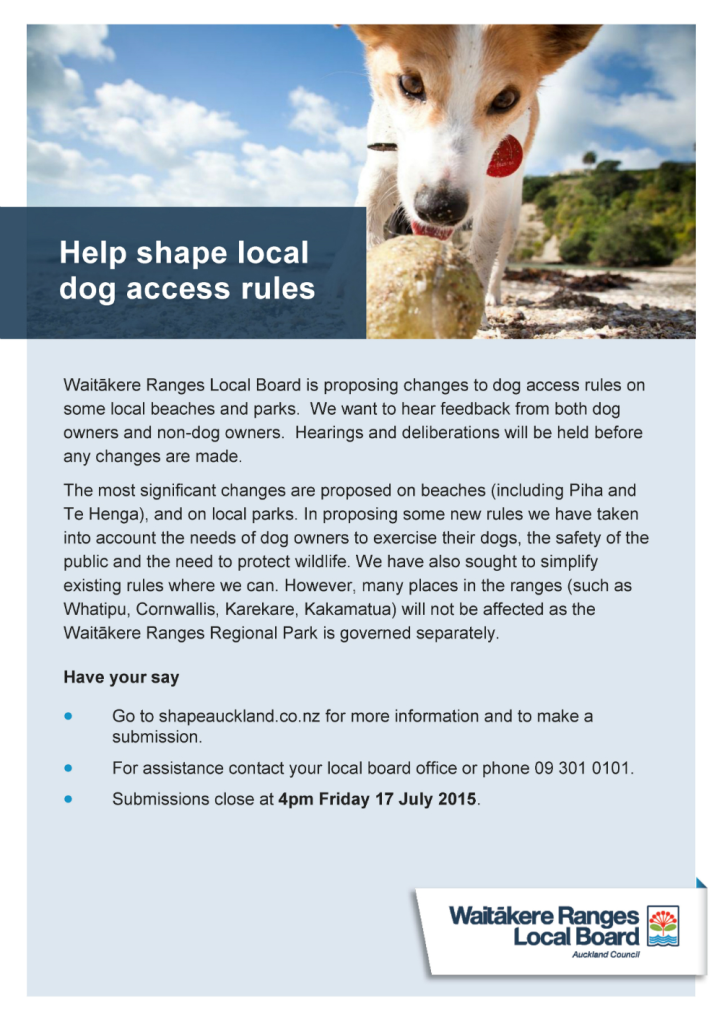 You