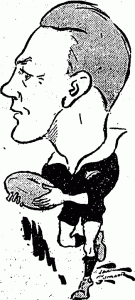 Frederick William Lucas has one of the most auspicious sporting records of any of the sportsmen in the Piha Surf Life Saving Club.
He was born in 1902 to Sarah Ann and Arthur Lucas, and grew up in Auckland, joining the Ponsonby Rugby  Football Club. He was a star three-quarter and played in the Auckland team before being chosen to join the 1923-24 touring All Blacks, which earned the soubriquet The Invincibles for its unbroken record of 32 wins on that tour of the British Isles and Europe. This was the team that starred George Nepia and his kicking boot. Fred called Nepia, a character.
Lucas had a long rugby history. He played his first game for Auckland aged 18 and was selected as an All Black in 1923-4-5-8-30. He captained the Auckland team and in his retirement from play was an Auckland and All Black selector. All in all, he played seven international tests and 41 games for the All Blacks and scored 75 points. He played in all four tests against the British Lions in 1930 and captained the Auckland side when it defeated the British team. Through his rugby career, he met many of the elite sportsmen who were members of the Piha surf club, such as Tom Pearce and Lindsay Schubert.
In 1927 he married Ida Oxspring, the sister of Johnnie Oxspring. Both families purchased sections in Marine Parade at Piha, and built baches overlooking the beach.  In private life Fred ran a menswear shop in Queen Street, where he capitalised of his All Black status in advertising. Fred was  noted for his immaculate dress.
Fred was club captain of the Piha club 1938-4, chairman 1944-48 and president 1944-49. He was made the first Life Member of the club in 1949. His shop was a gathering place for club members heading out to the coast on a Friday night.
His son, Frederick Ross Lucas, known to everyone as Buddie, looked just like Fred, with a crew cut. He was an elite sportsman too, as a swimmer, and in his mature years was the legendary president of the club.
Fred did not make old bones, dying in 1957, aged 55 years. His grandchildren and great-grandchildren are still at Piha making four generations of Lucas's at Piha.