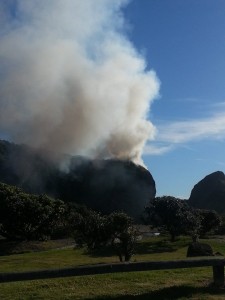 Fireworks were the predictable cause of the fire at Tasman Lookout, early this evening (4 November). A group of young men lit and then threw fireworks over the edge of the lookout, and vegetation took light.
Fire crews from Piha, Karekare, Waiatarua and Glen Eden attended and a helicopter was put on stand-by. Smoke billowed up from the site and it was fortunate there was very little wind. The fire destroyed about 8000 sq metres of vegetation some of it plantings which had recently become established around the rock structure at the Lookout.
Firefighters, pumping seawater from Pakiti Rock, managed to contain the fire on the seaward side of the Tasman Lookout Track.
Conditions fighting fires at this location are treacherous, as it is extremely steep and the ground crumbly, with a fatality guaranteed should a firefighter lose his or her footing and tumble down over the cliff.
The offenders were apprehended, but the Police apparently declined to attend.
Auckland Council bylaws prohibit the letting off of fireworks in any public places including parks at Piha. It is noticeable that in the lead-up to Guy Fawkes Day, there are at least three large fireworks outlets in Henderson Valley Road, and another at 15 Holdems Road, surely an invitation to head for the beaches to let them off. Fire Chief Gorter confirms that fireworks offenders are usually not locals, but from the urban side of Waitakere.
He estimated the cost of this call-out as $30,000-40,000.