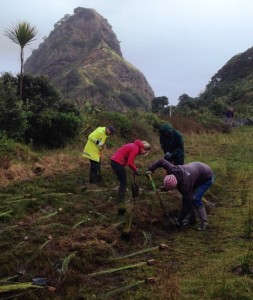 Twelve people quickly dealt with the remaining 400 plants in the Piha Domain on Saturday 27 June.
The project, organised by Local Parks West for the Waitakere Ranges Local Board involved planting the banks of the Piha Stream and the swale by the gate with suitable riparian plants, especially oioi and taupata – coprosma repens.
Around 3000 plants in total have been planted over four working bees.
The plantings are aimed at improving the natural setting and also providing filtration of run-off to improve water quality in the Piha Stream and lagoon.