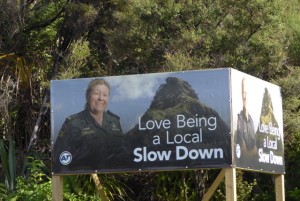 When Auckland Transport approached the Waitakere Ranges Local Board for a couple of potential stars for its new road safety campaign – "Love being a Local Slow Down", it wasn't hard to find the talent.
Auckland Transport asked for faces that would be familiar at Piha, people of good standing in the community, which would help in bringing home the safety message.
"Fiona Anderson and Ron Gorter were obvious choices," said Local Board chair and Piha local, Sandra Coney. "As First Response organiser and fire chief respectively, they are people the local community listens to, so we hope they head the safety message."
The signs have been installed at the top of Piha Road, as vehicles are entering the residential part of Piha. The speed limit here was recently reduced from 70 kph to 50 kph by Auckland Transport after representations from the Local Board and others.