Dr MacDiarmid, as he was known to everyone at Piha in the 1950s, was the resident doctor, whether he liked it or not. He came to Piha for the quiet life, to retire, but found himself called on to attend to ailing locals, lifesavers with bleeding heads and drowned visitors, at all times of the day or night.
He was born Gordon Napier MacDiarmid at Napier on 17 December 1888. His parents were Neil Kerr MacDiarmid and Mary Emily, born Johnston. His father became a bank manager in New Plymouth and chair of the board of governors of New Plymouth Boys' High School, so when Gordon went up to receive his prizes at prizegiving, it was sometimes his father handing them out.
He excelled at science and maths, and in the sporting field, gymnastics and sprinting. In 1903 he won the Dr Fookes Challenge Cup for general excellence in and out of school. He passed his medical preliminary examinations in 1904 and in 1906 went to Edinburgh to further his medical studies and also to study theology. In 1907 he gained two first class honours and two seconds and so passed his first medical proficiency exam "with distinction". He became ill at Edinburgh, with psthisis or TB, and was shipped home not expected to live.  However, he rallied and recovered, and went on to complete his studies at Otago University, staying at Knox College while he did so.
When war broke out he became a Captain of the 6th Mounted Field Ambulance. After the war, in 1919, he married Mary Frances Tolme at New Plymouth. Gordon had established himself as a doctor at Taihape and this was to be the couple's home until the late-1940s. They had two sons: Ronald born in 1920 and Douglas born in 1922.
After a period at Takapuna, around the early 1950s, the MacDiarmids decided to retire to Piha, Gordon had had a heart attack and for his health's sake, the MacDiarmids were looking for a peaceful retirement. The property they chose was at 33 Beach Valley Road. On a slight knoll, above Beach Valley Road, the MacDiarmids had a lovely view towards Taitomo Island and The Gap. A garden was established around the house and the MacDiarmids often went for long walks in the parkland surrounding Piha.
But this was to be no quiet retirement. With no resident doctor, no paramedics and no rescue helicopter, and miles from the nearest medical help, Gordon became Piha's "on call" doctor.
Helen Pearce remembers taking her son Bevan Watson down the hill to Dr MacDiarmid for treatment after Bevan climbed up on a chair and put his hand on the hot stove element. Dr MacDiarmid treated the hand, wrapped it up and put a large plastic bag over it.
Shirley Atkinson called in Dr MacDiarmid when daughter Janice had a severe asthma attack. MacDiarmid put the frightened and wheezing little girl at ease by saying: "Oh my, you've got kittens in your chest."
"She was such a little thing and she was crying and nervous," Shirley remembers. "He was so lovely and kind to her.
Rodger Curtice recalls that during the 50s and 60s, when the new sport of surfing arrived, with big heavy boards and no leg ropes, surf club members regularly smashed themselves on others' boards. He recalls having his head stitched by Dr MacDiarmid at least twice, the second time without the help of a local anaesthetic. Athole Murray and Peter Heffernan, he said, and virtually all the members of that era, had treatment from Dr MacDiarmid.
Curtice vividly remembers Dr MacDiarmid's role in a drowning incident at the beach, when a man was pulled out of the water on the north side of Lion Rock and was put on the Eve Rocker on the beach. This was a device like a see-saw where the patient was laid along its length and then rocked up and down, the idea being to restart breathing.
Dr MacDiarmid was called and  with a powerful stab thrust a giant needle through the man's chest into his heart. It contained epinephrine (adrenaline) and was designed to shock the heart into action, but in this case, the man was beyond help. The young lifesavers, only teenagers at the time, remember these dramatic incidents vividly.
Another veteran lifeguard, Brian Webber, relates a similar experience.
He and Gordon Barker pulled a 19-year-old girl out of the surf. They were working on her on the beach, with no visible signs of life, when Dr MacDiarmid appeared. "He came down and gave her an injection into the heart while we were working on her – it was a very horrific experience. They declared her dead at the scene. There was a coroner's inquest and it said she had had a heart attack in the surf."
Webber says that Dr and Mrs MacDiarmid kept to themselves, and Gordon MacDiarmid tried to convey the message that he was not on call for every Tom, Dick and Harry. "He didn't suffer fools gladly," says Webber, "He tried to let it be known that it had to be a real emergency for him to bring out his little black bag."
Nevertheless, Webber remembers the doctor being called to his family bach to treat an infection he had acquired. Dr MacDiarmid told Webber to lie face down on his bed, then "jabbed a bloody great needle about an eight of an inch thick in my backside. I let out a yell."
Despite his desire to to retire, Dr MacDiarmid ran classes for surf club lifesavers in resuscitation methods, passing on his emergency medicine skills, perhaps hoping that this would reduce the role he was playing.
Clearly Piha was not quiet enough, and around 1969, the MacDiarmids returned to live on the North Shore. Mary died in 1975 and Gordon on the 17 July 1980, aged 91.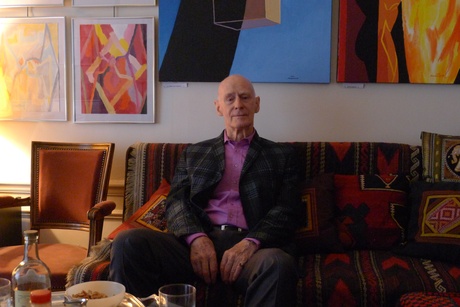 The MacDiarmids' son, Douglas (left), is a painter of significant note, based in Paris since the late 1940s.
His work is represented in many public collections throughout New Zealand.
Douglas wrote the piece below, about his memories of his parents' time at Piha and has kindly given permission to publish it. This piece is copyright.
WITH  LOVE TO PIHA.
"Leaning back perilously over a good seventy years to rake about in my youth is chancy if you like . Not only have I a congenital  unease with numbers, but an effort to pack more intense living than will go into a limited span of time promises well for distortion.
The sea journey back from Europe to NZ in 1949 gave my father time to be on his feet & fairly well  after his coronary thrombosis which had triggered off my sudden return. He was never a colossus, but had the life-long resilience of certain men of slighter frame.
He had begun mulling over buying a small house at Piha beach, thinking the beauty of the site could anchor me there awhile, which was a manifestly unfeasible plan considering my professional dependence on a city centre.  My mother, however, rapidly saw the advantages of getting her husband away from  pressures that had nearly killed him, & out & away to a paradise & new life for both in retirement at last. It was typical of her indomitable courage as, at the onset of age, for the first time she would have no housekeeper living in. Courage at that degree just can't fail, & the Piha years were the happiest in the lives of this couple, admirably united come-hell-or-high-water.
This must not be taken to mean that all was blissful repose & indolence.  It was their custom in the afternoon to take long walks in virtually virgin bush stretching inland from the beach.  For them,  it provided inspiration as near divine as could be wished, short of taking that invisible step which leads wherever it may. Others were doing their damnedest to beat them to it, in  huge numbers, by means of broken bottles in the sand, or, if water was preferred, simply by head-on collision with a fast boat,  some even compromised by entangling themselves in cables & spoiling some water-skier's  stunt.  How  poor souls remaining in Auckland in summer whiled away the time is anybody's guess.
On returning from walks, it says a lot for my parents' nervous stamina,  since instead of passing out at the sight of spread-out bodies & bones reddening their carefully tended lawn, they would set about one more improvisation of an emergency centre, following which  my mother had the heavy chore of bloody blankets to wash.
My father made countless appeals for medical assistance from  Auckland authorities, also the urgent need  for beach control during  the summer influx.  I doubt that  relief was fast in effect,  & while he laboured alone, he told me that even as a young man he'd never been worked so hard.
I  helped my parents move into Piha, & when,  having learnt & demonstrated  that no better course  for an elderly man in delicate health existed  than to bust his guts working as never before, it became evident  to us  all  that the last stage had begun,  I flew out from Paris for their last Auckland return."
Adieu   Piha.                                  Douglas MacDiarmid.     Paris  2013.