Doris Margaret Pearce 17 December 1911 " 9 May 2005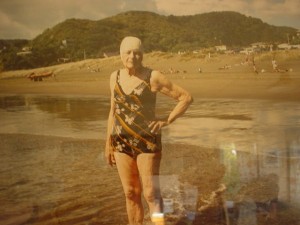 Doris Pearce died in her 94th year. She came out to Piha on the Saturday of Anzac weekend, sat and looked at the Lion Rock from the veranda of her bach, heard the surf and went to bed after dinner and didn't really wake up.
Mum was probably the last of the generation who bought land from the original subdivision of Piha by the Rayner Estate in the 1930s and built baches at Piha.
She was born Doris Morgan in 1911 to parents who had emigrated from the gold fields in Ballarat, and attended Ellerslie Primary School. In 1924 she won a Junior National Scholarship to go to Seddon Memorial Technical College where she excelled in her commercial course. From there she went to the Public Trust Office as a shorthand typist which is where she met Tom Pearce when he came to work there in 1930.
Mum was a very attractive young woman with dark sloe eyes and brown wavy hair. She liked nice clothes and picked up designer gowns in the sales. She had a strong shapely physique and excelled at sports.
At that time Dad was wrestling and playing senior rugby, so their joint love of sport was part of the attraction, although Dad disapproved of women taking part in athletics. He had been biking out to Piha since he was 14 and he was lucky that when he introduced Mum to the place she fell irrevocably in love with it. Dad had a Rex Speed King motorbike, and Mum sometimes drove it over the hair-raising roads with Dad as pillion.
At first she and the girlfriends of Dad's friends " Olive Chapman and Barbara Way " stayed in various baches " Miss Melville's, Miss Rankin's (the old Rayner house) and Cullens – while the men stayed in tents. When Dad joined the surf club, the men stayed there. In 1938, they acquired their first property at Piha, choosing it for the superb view. As Rayner Road was not built, they had to drag everything up the steep hill from Sylvan Avenue. The property was in Mum's name as she paid for it month by month from her earnings teaching at night-school. Mum was sceptical about Dad's ability to save and delayed marriage until they had 100 pounds in the bank. They had their priorities right, for at this stage they did not own a house in town.
The first bach was a car-case that the surf club men hauled up the hill. Their honeymoon was spent there, an idyll that was dramatically interrupted by a major fire in Beach Valley Road, the celebrated ˜body in the burning bach' case.
Once my sister and I were born, a pattern was established. Every weekend and every school holiday was spent at Piha, with Mum making massive bottling, baking and other preparations for the sojourn at Piha. The bach she lovingly decorated with great flair, doing much of it herself..
Dad died in 1976 and Mum had a long widowhood, but her loyalty to Piha was unwavering. She loved all the native trees and kept inventories of what she found on her property. Our friends visiting Piha would frequently find Mum with gloves and a large knife, cutting pampas out by hand. A trip down the beach would take her hours as she punctuated her journey with long conversations with anyone she could find to chat to on the way.
In her later years, Mum continued to drive out to Piha in her ˜one lady owner' Triumph Dolomite, a powerful but heavy vehicle. She took the road at speed and people in Rayner Road said they could hear the gravel scattering as Mum swung around the bends.
She loved going to watch the tennis at the Piha Tennis Club and a highlight was hitting a ball with the Mayor at the club's 50th anniversary when she was 85. She kept swimming till she was nearly 90 and she loved having a steak at the Piha Surf Club, where she was a vice-president. Even though she was admitted very ill to Auckland Hospital, she was determined to get to her 90th birthday at the club in 2001, where she met up with old friends, many, like Barbara Way and Don Wright, now sadly gone. Her favourite pastime of all was sitting on her veranda smoking a cigarillo.
She was the matriarch of our family, the repository of our family memories, values and stories. Her indomitable strength of character came out in her final years when she struggled to keep her independence in the face of daunting disability.
Mum was buried with Dad at Waikumete. With her into her grave she took a handful of Piha sand, her swimsuit, a favourite photo of Dad with the mill donkeys, and many sprigs of the kowhai, pohutukawa and karamu that grow on the land that she so loved.
Sandra Coney