Don ˜E.D.'Wright 1915-9 November 2003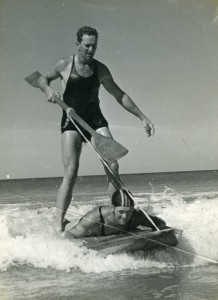 Don Wright, one of the icons of surf lifesaving, died on Sunday 9 November. He was on his way to his regular Grey Watch surf patrol when his van went off the Piha Road. At 88, Don was the oldest active member of Piha Surf Club and quite possibly the oldest active member of any surf club anywhere in the world. He was regularly to be found in the restaurant at the Piha Surf Club, of which he was patron, and he cut a fine figure when he attended the AGM of the club in July, resplendent in the black silver fern blazer he earned in 1950 as a member of the victorious New Zealand surf life saving team that prevailed over the Australians.
Don first came to Piha in 1924 as a nine-year-old. His mother Irene and her second husband Merv Otto retired to Piha in 1938 and built a bach in Garden Road. It was from there that Don had his first adventure with a surf ski, the piece of surf rescue equipment with which his name became synonymous. There were already a few skis at the Piha and Karekare clubs " Don built his first nine-foot long board with a skin of totara. When he paddled it out, it tipped over at the back of the breakers on North Piha beach, an experience he described as ˜frightening and bloody lonely'.
His second ski was over twelve-foot long and he tried this one out in front of the surf club so there were people around. It worked, and he went on to develop the teardrop surf ski as an efficient rescue machine. He made skis in a workshop under his house and orders came in from clubs all over New Zealand and his designs were copied in the US. He demonstrated the ski on film and was dominant in the sport for many years, winning the national championship four times and the provincial championship six times in the late 1940s and early 50s.
Don joined the Piha surf club in 1939 and held virtually every office in the club at one time or other. Gear steward, club captain, boat captain, president, instructor, delegate " Don did them all. He directed the effort to build a new clubhouse, opened in 1952, and was a mentor for younger men who joined the club. They knew him as ˜The Champ' because he was, in Ron Cooper's words, ˜A1 in all facets'. For services to surf lifesaving he was made a life member of both the Piha Club (1962) and Auckland association.
Among the many awards he gained was a Meritorious Award in Bronze which he received from the New Zealand association for a dramatic rescue of a man in 1962. North Piha was closed because of the heavy conditions with surf at 20 feet. As Don tried to get out to a man who was swept out to sea, he was continually knocked off his ski, so he dismounted as each huge breaker crashed over him, then remounted to struggle further out. Eventually he reached the man who was being supported by Peter Way, and successfully brought him back to shore on his ski.
Don married Joyce and they had four children " Terrill (Stanton), Colin, Bluey and Max. All Don's children have been involved in the Piha club in one way or another, as competitors, innovators and administrators. The Wrights' property in Rayner Road was acquired in 1946 and only sold by Don in the last few weeks. In town he lived in Remuera, in a house he built himself. After Joyce died in 1990, Don lived alone, and although he often said how much he missed Joyce, he always had a second home at Piha and many Piha friends.
Don's love of the surf ski was matched by an obsession with boats. He had a strong partnership with Tom Pearce in pioneering recreational fishing on the coast, culminating in their joint ownership of the legendary Kawerau. The double-ended Kawerau was modelled on the lines of an Australian surf boat, but with a planing hull like a speedboat to make it go faster. With a six-cylinder Dodge truck engine it could reach speeds of 30 knots in the open water. The name was selected by Tom's wife Doris from the West Coast iwi and the boat was painted bright red so it was easily visible. To get into the beach from out the back, the biggest waves were selected to ensure sufficient water under the boat as it sped over the bar. Line fishing was carried out from the Kawerau, but Don and Tom also pioneered skin-diving with aqualungs to raid the colonies of crayfish up the coast to Muriwai. This was dangerous work with big surges around the rocks. Don said he ˜wore out a pair of gloves on each trip from the rocks and the crays'. The pair had a license so sold fish and crays back at the beach for astonishingly low prices, ˜even then people would pinch them if they could', Don reported. In 1954 the two men took the Kawerau to Campbell and Raoul Islands on the coaster Viti to land stores, and in another adventure the following year, they joined a party which dived the wreckage of the Wiltshire off Great Barrier Island, Tom and Don being the only members of the party not wearing rubber suits as they didn't feel the cold. Later, he built a kauri launch and there were always plenty of hands willing to accompany Don on fishing trips.
Don never gave up on his love affair with the sea, surf and boats. People said that if you were ever stuck with a boat that had broken down, as some surf club members were once on the Manukau Bar, the best person to have on board to fix it was Don Wright. He represented the fast disappearing first generation of Piha surf club members and will be sadly missed by many on the Coast.
Sandra Coney