The death occurred on 8 October of Peter John Byers, aged 71. Peter was the oldest son of John and Yvonne Byers, Yvonne being a descendant of the Ussher family which settled Piha in the 1860s.
Peter grew up and lived all his life at Piha. His father was an apiarist at Piha and later fire prevention officer and the park ranger in the Auckland Centennial Memorial Park. Peter was educated at school in Wanganui and Auckland Grammar. On leaving school he successfully grew tomatoes at Piha, establishing large glass houses above Rayner Road and in the 1980s running a popular produce shop in Beach Valley Road.
When Bing Copeland and Rick Stoner arrived at Piha in 1958 with Malibu boards, Peter was one of the first to take up surfing. He drove them around Auckland to locate the materials they needed to build boards and worked alongside them when they built two polystyrene paddleboards in the Piha Surf Club.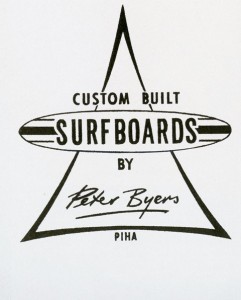 When Bing and Rick went back to California, Peter took over their equipment and started the first commercial board building business in New Zealand, Custom Built Surf Boards by Peter Byers. He worked at first in a glasshouse, then developed a workshop in Beach Valley Road. He was the first to make fins out of fibreglass instead of wood. Peter is credited with supplying blanks that enabled other board builders to get going around New Zealand.
A great surfer himself, Peter gained a third in the paddle board at the surf life saving national championship at Gisborne in 1960 and in the same year a wonderful colour photo of Peter surfing big waves on The Bar at Piha taken by John Severson appeared as a double-paged spread in the Saturday Evening Post in the USA.
Peter was a member of the Piha Surf Club and boat captain from 1960 to 1964 during which time the team won second and third at the national championships.
Peter had considerable land holdings at Piha. He was married to Margaret and had four sons and five grandchildren.