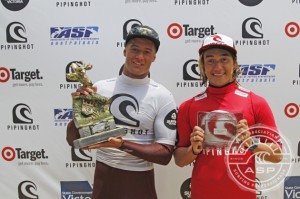 Elliot Paerata-Reid the young surfer from Piha has this week made a big name for himself on the Australian pro junior surfing circuit. (Association of professional Surfers). They called him the "dark horse" and repeatedly commented on his strength and power. As Elliot stamped through a field of Australia's top young surfers  commentators and Australian coaches could only nod their heads and wonder where he had come from.
Quickly it became known that he had come from good old Aotearoa. In New Zealand the 17 year old is a three times NZ national champion and has one dream and that is to be a professional surfer.
 "It's not that easy trying to be a pro surfer coming from a nation of rugby players, but I am determined to do it". Elliot says.
It was with this determination he headed to Australia entering his very first pro junior event in Bells Beach Victoria. The under 20 event started with 64 of Austraila's top surfing talent all chomping at the bit.
Right from the get go Paerata-Reid made his mark taking out some of Austrailia's top seeded surfers.
By day three of the five day event the unknown kiwi kid was the talk of the event, pulling huge scores out of the Bells bowl, winning heat after heat.
Paerata Reid said, "I was so happy when I got the highest heat score of the event, a 9 and 9.5 (18.5 out of 20) and I was over the moon when I made the quarter finals".
But it didn't stop there for Paerata Reid and he stormed it all the way to the final two with some great surfing and was impressive as he took on Soli Bailey from Byron Bay in a man on man final falling less than 2 points shorts of the win.
"When you get that close to a win of course you want that win but I am very happy with my performance and second place at such a big event is a great result for my first pro event."
Elliot is now looking forward to his next pro surfing competition on the North shore of Hawaii and finds him self well placed to tackle the rest of the season as he sits in 2nd place on the ASP Pro Junior ranking board with 563 points.