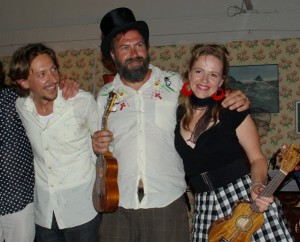 Local muso Age Pryor, is an esteemed member of The Wellington International Ukelele Orchestra, The Woolshed Series, Fly My Pretties and the Cosmic Noise Expedition, the latter an experimental group with Chris O'Connor http://www.agepryor.co.nz/cosmic-noise-expedition/
The picture shows Age (left) with Sam Auger and Megan Salole when they played the Barnett Hall for Protect Piha Heritage in 2009.
Apart from Age living at Piha, what's the connection with the Cosmic Noise Expedition?
For people who walk the Mercer Bay Loop Track, they'll know that the Cosmic Noise Expedition occured in 1948 when two radio astronomers, John Bolton and Gordon Stanley from the CSIRO in Sydney (equivalent of DSIR), came to New Zealand to carry out experiments to detect radio noise from the stars. They went first to Pakiri, then sat on the high cliffs at Te Ahuahu at the site of the old Piha radar station with a portable Yagi aerial and pinpointed the location of four radio stars in distant galaxies beyond the solar system.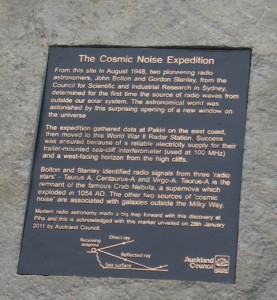 A plaque on a stone at the site marks this event which is credited with being one of the most important discoveries in the history of radio astronomy.  Next year,  international scientists are coming to New Zealand to commemorate this event and will visit Piha.
For more about it the original Cosmic Noise Expedition, go here https://www.piha.co.nz/the-past/radio-stars-2/