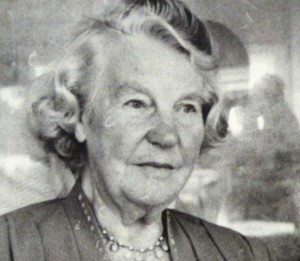 Mrs Ketterer came from Helensville – started the first beachfront store at Piha in Marine Parade South and then the tearooms and store in Beach Valley Road. This is where the buses arrived and dropped off stores, and left at the end of the day. The store was dusty and didn't have much in it in the way of stores except a marvellous pinball machine. She greatly supported the surf club, allowing the men to store their gear in her store before they had premises and giving them a hot meal at the end of their patrol. For years she had a fantastic Children's Fancy Dress at Christmas which was pretty well the highlight of the summer. She was always very gracious in her manner and seemed to be very well dressed and wear a lot of powder for the beach.
She had two children – Reg and Muriel – and a long-time boarder Gerry O'Loughlin, who some thought a boyfriend and some a son, but almost certainly, both wrong.
So who was Consuelo Ketterer with the exotic name? I've done a bit of research and found out more. Ketterer was Consuelo's married name. She was born Consuelo Edith Taylor at Swanson in 1891 where her father was a platelayer on the railways.
Ben Copedo is related to the Taylors and helped me learn more about Consuelo's birth family. It turns out she was related to many of the settler families out Swanson way. Her mother, Martha's, family name was Hieatt. The Hieatts  arrived in New Zealand about 1883 from England and William Hooper Hieatt lived in Christian Road, Swanson. His daughter, Martha Hieatt, known as Patty,  married Samuel Taylor. On his death in 1918 she married William Carrington (1921) and after he died, Charles Limington. Martha's younger sister, Fanny, married Walter Henry Sisam who farmed up in the Waitakere hills near today's Cascades. Fanny and Walter's son was the first ranger in the Cascades parkland.
William Hieatt and Mr Mettam built the road from Swanson half way up the hill towards the peak of the Waitakares that is today part of the Scenic Drive.
So Conseulo was a West Auckland girl at heart and would have known all about Piha, so the question of what prompted her to come to set up shop at Piha is partly answered. It seems it was her decision. In a newspaper article in 1971, she said "I came here from Helensville as I thought there'd be a good opening for a store."
Going back a bit, in1919, Consuelo married Carl Oscar Ketterer, a watchmaker. His name is German, and indeed, his father Conrad was born at Baden, but came to England as a young man. (Although oddly, when he naturalised, he said he was born in Aversa, Campania, Italy) Conrad married Louisa Draby and they lived in Leeds, Yorkshire, where Carl was born about 1879. He was the first son of the family, and he had younger brothers Conrad, Adolphus and George, and an older sister, Louisa Balbina. Balbina was the name of the ship on which the Ketterers emigrated from Germany to England.
In the 1891 census, Louisa (Conrad's wife) is living with these children on her own with a lodger. It is not clear what had happened to her husband (as she does not describe herself as a widow) but I suspect he had gone off on his own. By 1901 Louisa was living alone without children who would by then have been grown up and she was working as a housekeeper. In 1911 she was in the Oldham Union Workhouse, along with 900 other poor and unemployed women and mentally ill women, a sad fate.
By 1885, Louisa's husband, Conrad, had turned up in Lyttelton, setting up as a watchmaker in London Street, boasting over 25 years English and Continental experience. In 1890 he achieved naturalisation which indicates he had no intention of ever going back to England.
On 27 June 1895, all the Ketterer children – Carl, Adolph, George and Balbina – emigrated to New Zealand, presumably to hook up with their father. Balbina's descendants report she took one look at Wellington and decided she would go back to England, so she never set foot on dry land. That left 14-year-old Carl in charge. It is likely, given their young ages, that the boys went to live with their father in the South Island. Carl appears in Christchurch East in 1911 working as a barman. In 1914 he was a cook in Auckland. His younger brother George Henry is first seen on the electoral roll in 1911 working in Timaru as a cook.
Meanwhile Conrad went to Westport, next Levin, and by 1905 he was calling himself a farmer and living in Kaukapakapa. But either that was not successful or the call of the watchmakers' trade was too strong, for Conrad set himself up as a watchmaker in Helensville in about 1909.
Conrad not only sold and repaired watches but sold a wide range of goods such as jewellery, dressing table sets, hairbrushes and so on. He engraved medals and trophies and could always be relied on to provide a medal or two for local sports.
Carl started a farm at Pukanui on the Kaipara Line and bred and sold hens. By 1914  George Henry was working at Pukanui as a farm labourer, probably helping his brother.
The third brother, Adolphus, is harder to track. An "Arold" Ketterer appears on the 1905-06 Electoral Roll for Riccarton working at Chaney's Corner as a labourer. He next appears at the Onehunga Police Court in 1907 charged with being "idle and disorderly". The police had contacted his parents who it seems did not want to know him, and he was discharged without conviction, the police saying it was one of those cases which was difficult to deal with.
Harold "labourer and jeweller", born in Leeds, died in Rotorua Sanitorium on 2 March 1914 of "enteric or typhoid fever" aged only 27. His parents names are not entered, only that his father was a a jeweller. The Coroner reported the death. Sadly, it looks as if Adolphus, or Harold, had completely lost touch with his family.
Meanwhile, Balbina re-emigrated to New Zealand, this time for her husband's health, bringing with them a son and a daughter. The family lived in Kingsland and at different times Carl and George boarded with them.
When Conrad Ketterer  became ill and died of heart disease in 1916, the sons took over the Helensville jewellery business and Carl was to remain as a watchmaker all his working life. George variously ran a tearooms and a fruiterers in Commercial Road, Helensville, and farmed. He frequently won prizes for his garden vegetables at local agricultural shows.
Carl married Consuelo Taylor in 1919 at her mother's house, 6 Boyle Crescent, Grafton. They lived at Helensville before about 1933 moving to Piha. where Mrs Ketterer built and ran the beachfront store and then the tearooms.  Consuelo's first child, born in 1920, was Muriel . Carl Reginald, known as Reg, was born in 1931. So when Consuelo came to Piha she had a 13 year old and a toddler.
I cannot remember ever seeing Carl Ketterer at Piha, nor can anyone else I have talked to, but he is on the electoral roll for years, so he must have been there, occupation watchmaker. Mrs Ketterer's house was the old Railway Clerk's villa-style house from the milling days, which she had creosoted. This black house was a landmark at Piha till about 2004 when it was painted. It was subsequently extended by new owners and looks quite different.
George also came to Piha about 1940, giving his occupation as gardener. I can well remember George who was dark and lived in a wonderful classic kiwi bach in Glen Esk Road. He was a great regular at the RSA and on Anzac Parades wearing his medals as he had gone to WW1.
Carl died at Auckland Hospital in 1951, having gone to hospital from Piha. George died in 1957 at Mrs Ketterer's house, having moved there from his house in Glen Esk Road. His death certificate describes him as a retired dairy farmer. Consuelo died in 1976. Both Carl and Consuelo are buried at Hillsborough Cemetery.
Reg Ketterer, who married June, ran the beachfront store and at one stage there was mother running the Beach Valley Road Store and son running the beachfront store. Reg's profession was actually "photo engraver", but he also ran the Beach Valley Road store with his wife for some years. Eventually that closed down.
There is obviously much more to be learned about the Ketterers to fill in this story which I will add to as I find out.