Stanley Arthur ˜Bill' Hanson December 1913 " 16 July 2006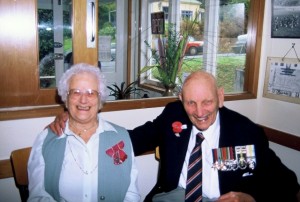 A lover of the West Coast and a loyal participant in Piha's Anzac Day parades died in July. Bill Hanson loved the annual gathering and wouldn't have missed it for anything, even though as his health failed he had to get down to Lion Rock in a four-wheel drive.
He had his own proud record of service, being a captain and quartermaster in the Royal New Zealand Signals. He completed army service in 1946, but remained a  territorial and attended annual camps into the 1950s.
His association with the West Coast began when he joined the Karekare Surf Club in its second year. He was club treasurer when war broke out and arranged the affairs of the club so it could go into recess as fit men went into the war effort.
In 1940 he married Betty Crump, and the growing Hanson family spent holidays at Karekare before shifting their loyalties to Piha, where they used a local bach before building in Garden Rd.
There were seven in the Hanson tribe " John, Peter, Robert, David, Andrew, Mark and Elizabeth. At their Blockhouse Bay home, set in wide lawns with a large garden, Bill used his homegrown labourforce to keep up a supply of vegetables, poultry and fruit for the dinner table. A hard worker and perfectionist, he expected the same of his family. He loved competition and had a great deal of success at breeding birds and showing Great Danes, Sidney Silkies and other breeds.
As a young man Bill excelled at athletics and hockey, but bowls, both indoor and outdoor, became his great obsession. He was involved in several city clubs, especially the Portage Bowling Club, and played bowls at the national competition level. During the summer he enjoyed bowls at the Piha Bowling Club.
Meanwhile, when not bringing up a large family, Betty got involved in education politics, then represented Piha for many years on the Waitakere Community Board. Son John was immersed in surf life saving until his untimely death in 2002.
With a growing brood of grandchildren, Bill was proud of his family's accomplishments and was always interested in what they were doing. As his mobility decreased, he spent his last 18 months at the Ranfurly War Veterans Home in Mt Albert where he passed away. Another old soldier Gone West.