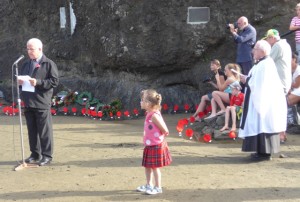 An enormous crowd gathered at the Piha RSA to march down to the WW1 and WW2 Rolls of Honour at Lion Rock, marking the 100th year since the landing at Gallipoli.
The gallery and library had marked the route to the rock with bright red poppies as part of the Peace Poppy project inaugurated by Cristina Beth. This was a new innovation and added greatly to the colour and specialness of the day.
The Rev Jim Hunt reminded us that God had created a beautiful earth to live in, but humans could do better to learn the lessons of history and foster peace and look after the planet. He reminded us that while individuals usually lived peaceably side by side, countries tended to turn to arms fairly readily when they had disagreements.
We sang all six verses of "O God, our help in ages past", and the Mayor spoke briefly about the historical significance of the day.
The Last Post was played by a bugler standing a little way up Lion Rock and the lament on the pipes by a member of the Otahuhu and District Pipe Band which has been attending this service for about 50 years.
We sand both the Australian and New Zealand national anthems and a new innovation was the saying of the Ode on Maori as well as English. Then back to the RSA for a feast of cheerios, sandwiches, pies and even a sponge cake made by Shirley Atkinson.